Composer and pianist John McCabe dies aged 75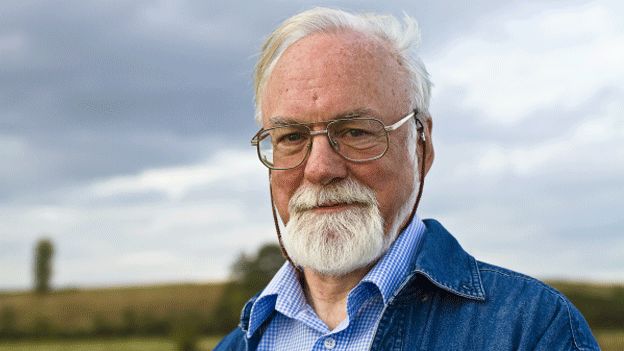 Composer and pianist John McCabe has died at the age of 75.
A gifted artist, he had composed 13 symphonies by the age of 11, and his recordings of Joseph Haydn's piano sonatas are considered definitive.
His own compositions included orchestral and chamber music, and he was director of the London College of Music between 1983 and 1990.
Confirming his death, publishers Novello and Company said he had "passed away peacefully, after a long illness".
Born in Lancashire in 1939, McCabe was badly burned as a child and was educated at home for eight years, giving him ample time to experiment with music.
"There was a lot of music in the house as I was growing up," he told M Magazine last year.
"My mother was a very good amateur violinist and there were records and printed music everywhere. I thought that if all these guys - Beethoven, Brahms, Schubert - can do it, then so can I!"
However, he insisted, those early symphonies were "absolute rubbish, and I have successfully destroyed most of them".
He studied at the Royal Manchester College of Music (now the Royal Northern) and in Munich with German composer Harald Genzmer.
In the 1960s, he was pianist-in-residence at Cardiff University, after which he successfully pursued a dual career as pianist and composer.
He was prolific, producing a catalogue of more than 200 works in a wide array of forms and contexts, working on instruments from the recorder to the organ to the penny whistle.
His first internationally recognised work was the song cycle Notturni ed alba, for soprano and orchestra.
Based around four medieval Latin poems on the topic of night, Gramophone magazine called it "an intoxicating creation, full of tingling atmosphere and slumbering passion".
McCabe agreed it "really opened doors" for his career, adding: "It was... taken up by all kinds of people like Andre Previn and Bernard Haitink - it brought me to a much bigger audience."
Between 1974 and 1976, he recorded the entirety of the Haydn sonatas for Decca, and the discs have never gone out of print.
He also delved into 20th Century works by Hindemith, Britten, Bax, Webern and others.
One of his most successful works was the ballet Edward II, created and choreographed by David Bintley and premiered by the Birmingham Royal Ballet, winning the 1998 Barclays Theatre Award.
He also received acclaim for his Haydn Variations, written in 1983 to celebrate the 250th anniversary of Haydn's birth and initially performed by fellow pianist Philip Fowke.
According to McCabe, Fowke believed the work "was one of the most difficult pieces he has ever had to play".
"He liked it very much and he played it wonderfully well," the composer told Seen and Heard magazine - adding: "This is going to sound very pretentious, I don't actually find it difficult.
"One or two bits are very difficult, but on the whole I don't think it's very difficult. And the reason I think that is because it's written for my hand, instinctively."
Despite his dual careers, McCabe said he rarely composed at the piano, saying it was "disruptive to my thought processes".
"What I like to do when I'm composing is see the structure taking shape before me," he told BBC Radio 3 last year. "But if you're playing piano you can't do that - you're concentrating on playing the right notes... hopefully.
"Another reason for it is, when I was doing the two activities concurrently, I found myself being much too heavily influenced as a composer by the works I was playing.
"If I was playing Copland, a few phrases of Copland would suddenly creep into my music."
McCabe was appointed CBE by the Queen in 1985 for his services to British music. He was also given an honorary doctorate in music by Liverpool University and last year's Ivor Novello Award for classical music.
He continued to work until his death, despite a long battle with brain cancer, whose devastating effects were chronicled in an article by his wife Monica in a 2013 edition of Musical Opinion.
She wrote how "his courage and will-power... astonish me".
McCabe's most recent work, Christ's Nativity, was commissioned by the Halle Choir and premiered in Manchester in December 2014.
Paying tribute, McCabe's friend and colleague James Rushton said: "We have a lost a man of great wisdom, humour and integrity and a complete musician.
"My abiding memory of John will be his acceptance speech when receiving the classical music award at the Ivor [Novello awards] last year.
"It was quite extraordinary - self-deprecating, loyal to fellow composer colleagues, and immensely humorous - leaving everyone on their feet, cheering. That is as it should be."