Channel 4 presenter Cathy Newman sorry over mosque claims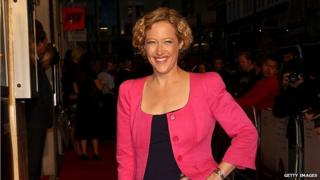 Channel 4 News presenter Cathy Newman has issued an apology after tweeting that she had been "ushered" out of a south London mosque.
Newman offered "sincere apologies" after it emerged she had mistakenly arrived at the wrong mosque.
She said sorry for causing a "great deal of offence" after tweeting her "interpretation of events."
Newman had been visiting the mosque as part of Visit my Mosque day on 1 February.
Newman had tweeted that when she arrived at the South London Islamic Centre she had been ushered out despite being "respectfully dressed, head covering and no shoes".
She had however been due to visit the nearby Hyderi Isla Centre, which she did eventually get to and tweeted she had had "a wonderful warm welcome - not to mention tea and cake".
Channel 4 News editor Ben de Pear hand-delivered two letters to the South London Islamic Centre on Wednesday and met with the Imam and his committee to offer an "unreserved apology".
In his letter de Pear said he had "spoken to (Newman) at length and expressed my disappointment at her actions".
"Her language was poorly chosen and caused your mosque untold and undeserved hurt. This was never her intention and we deeply regret that it happened."
"After entering and then leaving the mosque she hastily tweeted her interpretation of events, which given that she was at the wrong mosque she admits was a misjudgement."
In Newman's letter she apologised for her "poorly chosen language" that had caused offence.
"This was never my intention and I would like to offer my sincere apologies," she said.
She also repeated her apology on Twitter and announced she would be taking a break from the social media site.