ENO told to improve or face funding cuts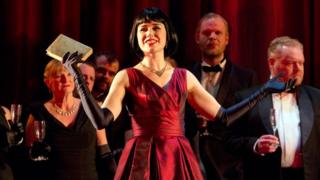 The English National Opera (ENO) has been dropped from the Arts Council's national portfolio of organisations for 2015-18 and placed "under special funding arrangements".
Arts Council England said the ENO must now improve its business model or face funding cuts.
It said it would review the ENO's finances over the next two years and "set rigorous milestones" for progress.
ENO's chairman and executive director both recently stepped down.
Martyn Rose's departure was announced in January, with Henriette Gotz resigning a few days later.
'Commercial programming'
Althea Efunshile, acting chief executive of Arts Council England, said: "No one is doubting that ENO is capable of extraordinary artistic work but we have serious concerns about their governance and business model and we expect them to improve or they could face the removal of our funding."
Last year the organisation had its annual funding cut by 29% as part of a shake-up of how the Arts Council distributes its money.
The ENO is moving towards more commercial programming that will see it stage musical theatre productions, among them Sweeney Todd with Bryn Terfel and Emma Thompson.
Analysis: Will Gompertz, Arts editor
The Arts Council's decision to eject the English National Opera from the National Portfolio is a big deal. It's way beyond the naughty corner, and to extend the school analogy, it has been put in to special measures.
I can't think of another instance where there has been such a dramatic move made that imperils one of Britain's major arts institutions.
The problem, as I understand it, is the ambitions of the artistic director are not aligned to what Arts Council England believes is achievable with its budget.
They are demanding a different mix in programming, a strong chief executive and serious consideration as to the whether a full-time orchestra and chorus are required.
The "special funding" represents what the ENO would have received in the first two of the three years of funding it would have been given had it remained in the national portfolio.
The acting chair of ENO, Harry Brunjes, said it was "very grateful" to Arts Council England and would "continue to work closely with [it] to inspire confidence in our future plans".
The ENO, which operates out of the Coliseum in London, will receive £30.5m over the next two years - annual core funding of £12.38m, plus additional transition grants amounting to £6.55m.
Arts Council England said the money would "enable [ENO] to operate and make changes to its business model".
"All companies offered national portfolio status must demonstrate their business plans and their governance are robust enough to ensure the organisations are sustainable over a three-year funding term," it said in a statement.
In the case of ENO, it said, "the Arts Council has continuing concerns which it wants to see addressed".
Earlier this year, the Sunday Times published the contents of a letter in which Martyn Rose called for the sacking of John Berry, the ENO's artistic director.
Originally named the Sadler's Wells Opera Company, the ENO adopted its current name in 1974, six years after making the London Coliseum its home.
The company describes its mission as one of "creating new audiences for opera through English language performances which are affordable and accessible to everyone".