Grammy TV audience down by three million viewers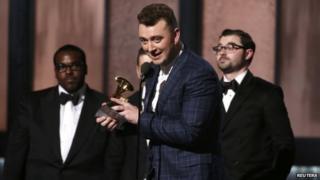 Sam Smith's Grammy victory was watched by 25.3 million people in the US, the show's smallest audience since 2009.
The figures were down 11% compared with last year, when a tribute to the Beatles and a mass on-stage wedding attracted 28.5 million viewers.
But it was the fifth consecutive year that the Grammy audience topped 25 million.
It was also the most-watched award show of the year to date, beating the Golden Globes' audience by six million.
However, the Oscars remains the grand dame of award ceremonies - having attracted 43 million people last year.
British singer Sam Smith was the big winner at this year's Grammys, taking home four awards including song of the year and record of the year - both of which went to his gospel-tinged break-up ballad Stay With Me.
Beck won the album of the year prize for his eighth album, Morning Phase - infuriating Kanye West, who stormed the stage to protest at Beyonce's loss, before deciding to return to his seat rather than taking the microphone.
The incident was the most-tweeted moment during the show, attracting 13.4 million comments on Twitter. The ceremony was also streamed 7.5 million times, an increase of 40%.
But overall the show was low on spectacle, with most artists presenting stripped-back, muted performances; largely concentrating on their slower numbers.
Madonna was the obvious exception, playing a matador to a stage full of dancers wearing diamante-encrusted minotaur masks.
"Whatever happened to the splashy awards-show production number?" asked Mikael Wood in the Los Angeles Times' review. "Apart from a few exceptions, the 57th Grammys felt defined by rawer, less elaborately conceived moments.
"Performers wanted to offer something of themselves to viewers."
"Maybe it was fun for those who took home trophies, but for us playing at home, the Grammys were slow, slow, slow," agreed Danielle Belton, for NBC News.
"Too many of the evening's nearly two dozen performances felt leaden, maudlin or both," added the Washington Post's Chris Richards. "Younger artists tried to sound old while older artists struggled to sound young.
"[Sam Smith] seemed to be bending the entire vibe of the show toward the austere, melancholy mood of his music."