Mark Strong's View on Arthur Miller legacy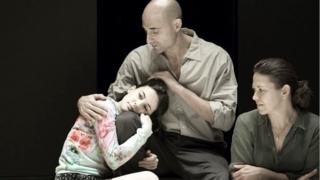 He's currently playing a rare good guy on screen in Kingsman: The Secret Service, but as Mark Strong brings Arthur Miller's A View from the Bridge to the West End, he says there's another way to see the play's notorious bad guy Eddie too - and explains why he thinks the playwright's stories stand the test of time.
At last year's Superbowl, Strong unveiled his latest villainous part, opposite Sir Ben Kingsley and Tom Hiddleston, in an ad for a popular British car firm. The tagline - "It's good to be bad" - had been earned by playing the foe battling both Russell Crowe's Robin Hood and Robert Downey Jr's Sherlock Holmes.
His latest stage role as tragic hero Eddie Carbone, the central character in Arthur Miller's A View from the Bridge, has been traditionally denounced as inappropriately obsessive, controlling, bullying and homophobic. But Strong does not see it that way.
"The main challenge for me doing the play was rebuffing people's perceptions of Eddie," Strong says about the role that lured him back to the theatre after 12 years in film.
"A View from the Bridge has been done many times and people feel they know the play. His reputation is that of a homophobic, misogynistic bully.
"I did not see it, or want to play him that way - I saw someone who is handicapped by his lack of education, his lack of emotional awareness. Eddie works on the docks in Brooklyn in the 1950s. That is a hard life."
The play is transferring from an acclaimed production at The Young Vic - which saw Strong named best actor and Ivo Van Hove best director at the Critic's Circle Theatre Awards earlier this month - to The Wyndham's Theatre, in the centenary of Arthur Miller's birth.
Strong, who has kept up his cinematic profile with recent roles in The Imitation Game and Kingsman, has no doubt why Miller's plays endure.
"Miller now has big audiences, but I am not sure all his plays had big audiences when they were first staged," says Strong.
"Creative endeavour should be about taking us out of our everyday lives - work, emails, meetings, paying the bills. It is then the job of the arts to shine a light on what it is to be human. This is what Miller's plays do."
It is not Strong's first contact with the playwright. In 1996 he played Biff to Alun Armstrong's Willy Loman in a National Theatre production of Miller's Death of a Salesman.
"I used to sit on the stage during every performance of the play and marvel at how cleverly Miller had constructed it and how the dialogue fitted together. Everything that was said managed to move the play forward; he managed to tell the story in a very simple way. A View from the Bridge does that too.
"You meet these people and do not know where the play is about to head, and then slowly begin to realise there is unease in the air. You can see this terrible car crash happening in slow motion. His storytelling blows me away."
The role of Willy Loman is known as one which attracts acting heavyweights from early incarnations of Lee Cobb and Rod Steiger, Dustin Hoffman on Broadway and in a 1985 TV movie and Philip Seymour Hoffman in his last stage role. From next month, Sir Antony Sher will play the part for the Royal Shakespeare Company.
"The role has resonance," says Strong, "because all actors realise Willy is a really well-written part. You feel for this guy who just does not really understand what is going on in the modern world.
"He is a guy with his pride, and the modern world has just overtaken him like a rollercoaster ride. Actors understand that it is a part that can make you laugh and cry at the same time."
As to his own intentions, Strong admits: "I would love to play Willy one day, no question."
While he was part of the National Theatre production, the cast were invited to Salzburg to hear Arthur Miller, who died 10 years ago this month, describe the play.
"He allowed us to come in and read the text with him. He read the part of Willy Loman and also Biff. I remember him basically allowing us to make our own version of his play.
"He did not say 'this is my play, here is how it should be' - he was very open to what we felt we wanted to bring out in our roles for this production." Strong says Miller also shared stories with the cast, including the origins of one of his most famous plays.
"I do remember Miller saying he wrote the first half of Death of a Salesman in one night. He built a wooden shed at the end of his garden and in it wrote the first half in one night.
"He then took three weeks to write the second half, but even so, three weeks to write one of the greatest plays in the English language is pretty amazing," said Strong.
Strong has also appeared in Sam Mendes' final season at the Donmar Warehouse and alongside Kevin Spacey in The Iceman Cometh but the conflicted role of Carbone - in what Strong has called "a stark, bare and brutal" production of A View from the Bridge - is one of his greatest tests on stage yet.
"Inappropriate relationships are the stuff of drama," says Strong. "Miller writes about the human condition. He holds up a mirror and shows us, through the behaviour of other people, how we behave."
A View from the Bridge is at Wyndham's Theatre until 11 April.