Oscars 2015: The foreign language contenders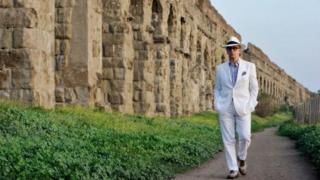 The Academy Award for best foreign language film doesn't get a lot of attention on Oscar night - and some films remain little seen even when they win. But for some recent releases, such as Amour, winning the Oscar helped bring mainstream success.
It was 1947 when the Academy of Motion Picture Arts and Sciences (Ampas), trying to build bridges post-war, awarded the first Oscar for Best Foreign Language Picture.
The category developed its own complex voting process, unlike that for other Oscars, and Ampas has sometimes been criticised for a system few really understand. Some years there have been complaints that the shortlist was stodgy, with nominations a matter of industry politics rather than artistic merit.
For a full explanation of the current nomination process, please see the bottom of this story.
Here's a closer look at this year's nominees.
---
IDA
Country: Poland
Language: Polish
Poland's Oscar record: Nine previous nominations in this category, but no winners.
Director: Pawel Pawlikowski
Story: Poland in the 1960s. Anna is an attractive young woman training to be a nun at a Catholic convent. She is allowed to leave briefly on family business, possibly for the last time before she is to take her vows. Meeting an aunt, she discovers that her family history is not as she understood it: there were awful events in World War Two of which she knew nothing. On the road, Anna (formerly known as Ida) encounters a handsome young musician. Can she now return to the life which awaited her?
Could it win?: Ida is a Polish film with a big British streak: the Polish-born director has had a career in British television and screenwriter Rebecca Lenkiewicz is from Plymouth. Yet the script, written first in English, comes up with original angles on the legacy of the Holocaust in Poland. The black and white cinematography is striking and lead performances by Agata Trzebuchowska and by Agata Kulesza as her boozy aunt are excellent. The audience roots for Anna, wanting her to think again about the restricted life awaiting her. A strong contender.
---
LEVIATHAN
Country: Russia
Language: Russian
Russia's Oscar record: Five nominations including a win in 1994. Previously, as the USSR, a further nine nominations with three wins.
Director: Andrey Zvyagintsev
Story: A small town on the Barents Sea in northern Russia. The proudly independent Kolia lives in a beautiful spot with his second wife and his son, in a house he has built himself. The shamelessly corrupt local mayor wants the house demolished. A Moscow lawyer, an old friend of Kolia, arrives to help him fight his case but motives are complex. Kolia's life becomes a disaster.
Could it win?: Though some see the film as a critique of Putin's Russia, the story could happen in some form wherever a decent but hot-headed individual clashes with arrogant authority. (Perhaps diplomatically the director says he was inspired initially by events he heard about in the US.)
The film is superbly made throughout and locations, which will be unknown to most cinema-goers, are spectacular. Performances are strong - above all that of Roman Madyanov as the largely drunk mayor. Leviathan has moments of humour but at heart it's a tragedy, which will echo with audiences well beyond Russia. It's the richest of the five nominations.
---
TANGERINES
Country: Estonia
Language: Russian and Estonian
Estonia's Oscar record: The country's first nomination.
Director: Zaza Urushadze
Story: The story centres on an ethnic minority virtually unknown to the outside world. In the early 1990s, Ivo is one of the few ethnic Estonians not to have fled Georgia as vicious fighting proceeds about him between Georgians and Russian-backed Chechen fighters. Growing old, he wants only to carry on with his life, building crates to transport tangerines. But Ivo ends up looking after two injured fighters from opposite sides of the conflict. Will Ahmed the Chechen kill his enemy Niko as he threatens?
Could it win?: The film, in effect a Georgian-Estonian co-production, benefits from a strong central performance by actor Lembit Ulfsak. There are moments of real tension when the war turns up on his doorstep. But the basic set-up feels contrived: it's quickly obvious that Ahmed and Niko, at first mutually resentful, will have to come to terms with each other. Tangerines reminds us of the idiocy of violence - but its central scenes are more theatre than film and fail to grip as they should.
---
TIMBUKTU
Country: Mauritania
Language: French, Tamasheq, Arabic
Mauritania's Oscar record: The country's first nomination.
Director: Abderrahmane Sissako
Story: Set in Mali but filmed largely in Mauritania, the story centres on the rise of a hardline Islamist group. Kidane and Satima survive by tending cattle, believing themselves safe from the extremists who now dominate their area. But when Kidane unwisely takes a gun with him to argue with a neighbour, tragedy follows.
Could it win?: The film, produced out of Paris, looks great: it was shot by Sofian El Fani, who also filmed Blue is the Warmest Colour. The acting, by a mixture of professionals and local people, is convincing and at times moving. Timbuktu was well received at last year's Cannes Film Festival. There has never been a North African winner of the prize (excluding Z in 1969, which used Algeria as a stand-in for Greece): a win for Sissako would confirm his reputation as the continent's leading film-maker and be a huge boost for African cinema generally.
---
WILD TALES
Country: Argentina
Language: Spanish
Argentina's Oscar record: Six nominations including wins in 1985 and 2009.
Director: Damian Szifron
Story: The film is a series of short anecdotes dramatising the pressures of modern city life, not only in Latin America. The stories are unconnected but themes emerge. A middle-aged man loses the plot entirely after his car is towed away once too often; a wedding day at an up-market Buenos Aries hotel goes hideously and bloodily wrong; a man speeding along an open road comes to regret aggravating another driver.
Could it win?: The screenplay expertly turns the screw to exaggerate each situation but it never wholly loses touch with reality. So the wedding couple go from loved-up to homicidal in the space of 20 minutes but the performances carry us along. Anthology films have rarely found favour in the USA but Oscar voters may find in Wild Tales echoes of life in LA and New York, sometimes comic but mainly bitter.
---
HOW IS THE WINNER CHOSEN? :
Bit by bit the way the winner is chosen has been changing - and this year Academy members in the UK have a bigger role.
Some think the Ampas foreign film committee should be able to call in winners from important festivals such as Cannes and Venice to liven things up. But the popularity of the three most recent winners - A Separation, Amour and last year The Great Beauty - seems to show the current system working well.
Nonetheless the chairman of the Ampas committee, Mark Johnson, continues to finesse the process to give the award more profile. So from this year the Oscar will go to the director as well as the winning nation, which may help focus media interest.
The process:
The Academy invites nominations from recognised film bodies around the world - one per country. This year there were 83 nominees, four from nations which hadn't previously submitted. The ever-growing field may explain why Ampas is reluctant to allow extra films to be nominated. There are often squabbles in national industries about which film was submitted: happily at this point Ampas can stand back from the fray.
The initial longlist is viewed by a large volunteer panel of Oscar voters: a volunteer might see around a quarter of submissions. The six films which get the most votes go through to the next stage. The amount of time involved in watching the films inevitably means volunteers tend to be older, retired Ampas members.
At this point the Academy's executive committee may choose to save three films submitted which it feels should have made it onto the shortlist but which did not. So the list is back up to nine.
These nine films are now watched by a special Ampas committee made up of 20 people in Los Angeles, 10 in New York and (an innovation this year) 10 in London. They eliminate the four films they liked least, taking the final short-list back down to five.
The big change came last year: all Ampas voting members (some 6500 people) can now select the winning film from the final list. The former requirement to view films in a cinema was dropped: watching a screener (promotional DVD) is now acceptable. There were predictions Academy members might skip films they didn't like the look of but Mark Johnson insists there's no evidence of this. The fact that last time The Great Beauty was a popular winner has tended to validate the new system of balloting.