Ian McKellen, Neil Gaiman win at BBC Audio Drama Awards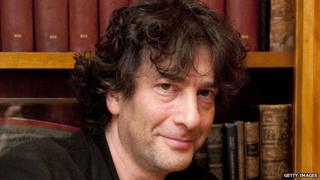 Novelist Neil Gaiman and Lord of The Rings star Sir Ian McKellen are among those honoured at the BBC Audio Drama Awards.
Gaiman won the outstanding contribution award for the BBC Radio 4 adaptations of his work, Good Omens and Neverwhere.
Sir Ian picked up best actor for his role in the adaptation of Honore de Balzac's 1833 novel Eugenie Grandet.
Other winners include veteran Scottish comic Stanley Baxter, who was given a lifetime achievement award.
The 88-year-old, who celebrates his 75th year in radio, started his career as a child actor on Children's Hour.
He appeared regularly on TV in the 1960s and 1970s, before returning to drama on Radio 4. His recent and ongoing Radio 4 series include The Stanley Baxter Playhouse and Two-Pipe Problems.
Now in their third year, the awards are a celebration of audio drama, on air and online, giving recognition to the actors, writers, producers, sound designers, and others who work in the genre.
The event was hosted by actor Lenny Henry and director of BBC Radio, Helen Boaden, in the Radio Theatre at BBC Broadcasting House.
Picking up his award, Gaiman said he has "honoured, overwhelmed and thrilled" and that radio had always been a passion of his from an early age.
"You can do amazing things inside someone's head with radio and radio drama," he said.
"I don't remember a time that I didn't care about radio drama... it can become part of the fabric of one's life, exercising the imagination, making the listener into a collaborator with the actors and the writer and the director.
"It's faster and more fun and cheaper to make than a feature film, and sometimes a hundred times more effective."
Good Omens, the 1990 by Gaiman and Terry Pratchett was adapted for Radio 4 by Dirk Maggs, director of the radio and stage version of Hitchhiker's Guide to the Galaxy, and aired over Christmas.
The awards were handed out by stars including Olivia Colman, Jeremy Front, Ruth Jones, Neil Dudgeon, Barbara Flynn and Nina Wadia.
Helen Boaden said: "These awards celebrate the very best of British audio drama and showcase some of the finest actors, writers and producers in the world.
"I am incredibly proud of the role BBC radio plays in the genre and it has been brilliant to have been a part of another exciting event."
Previous winners include David Tennant and Andrew Scott for best actor, writer Katie Hims for best audio drama and Doctor Who: Dark Eyes for best online or non-broadcast audio drama.
---
Full list of winners:
Best original audio drama (Single play)
Everything, Nothing, Harvey Keitel written and produced by Pejk Malinovski, a Falling Tree production for Radio 3
Best audio drama (Series or Serial):
Ambiguous Loss, written by Michael Butt, produced by Toby Swift, a BBC Radio Drama London production for Radio 4
Best audio drama (Adaptation):
Come to Grief, written and dramatized by Hannah Vincent and produced by Gordon House, a Sweet Talk production for Radio 4
Best actor in an audio drama:
Ian McKellen in Eugenie Grandet, dramatised by Rose Tremain and produced by Gordon House, a Goldhawk Essential production for Radio 4
Best actress in an audio drama:
Aisling Loftus in Educator, written by Hayley Squires and produced by Helen Perry, a BBC Radio Drama London production for Radio 3
Best supporting actor or actress in an audio drama:
Michelle Terry in Educator, written by Hayley Squires and produced by Helen Perry, a BBC Radio Drama London production for Radio 3
Outstanding contribution award:
Neil Gaiman
Lifetime achievement Award:
Stanley Baxter
Best debut performance in an audio drama:
Jade Matthew in A Kidnapping, written by Andy Mulligan and produced by John Dryden and Nadir Khan, a Goldhawk Essential production for Radio 4
Best use of sound in an audio drama:
The Boy at the Back, sound by Steve Bond, written by Juan Mayorga and produced by Nicolas Jackson, an Afonica Sound production for Radio 3
Best scripted comedy drama:
Lunch, written by Jon Canter, produced by Sally Avens, a BBC Radio Drama London production for Radio 4
Best scripted comedy with a studio audience: John Finnemore's Souvenir Programme, written by John Finnemore, produced by Ed Morrish, a BBC Radio Comedy for Radio 4
Best online or non-broadcast audio drama: Hood - The Scribe of Sherwood, written by Iain Meadows, produced by Spiteful Puppet Entertainment
Imison Award for best script by a new writer:
How to Say Goodbye Properly by EV Crowe
Tinniswood Radio Drama Award for best radio drama script:
Goodbye by Morwenna Banks
---