Rod McKuen, 'King of Kitsch', dies aged 81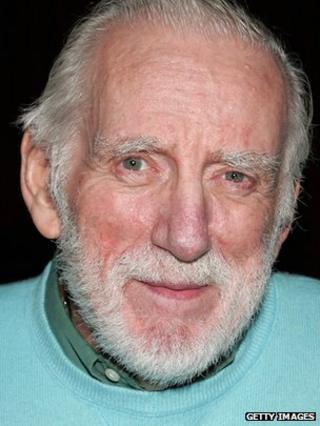 Populist poet and prolific songwriter Rod McKuen has died at the age of 81.
Known as the 'King of Kitsch', he died in Los Angeles of respiratory arrest after suffering from pneumonia.
A Grammy winner and double Oscar nominee, McKuen worked with a string of household names including Frank Sinatra and Barbra Streisand.
His best-known song was arguably Seasons in the Sun, a number one hit in the US for Terry Jacks. He later wrote for Madonna's Ray of Light album.
The artist was co-credited on Madonna's track Drowned World/Substitute for Love, which borrowed from McKuen's Why I Follow the Tigers.
Seasons in the Sun - like another of his compositions, If You Go Away - was an English-language reworking of a song by McKuen's idol, French artist Jacques Brel.
McKuen earned two Oscar nominations, one for the song Jean, from 1969 film The Prime of Miss Jean Brodie, and another for the song score of 1970 Peanuts movie A Boy Named Charlie Brown.
He clinched his only Grammy, for best spoken word recording, for his Lonesome Cities album, one of nine albums to chart between 1968 and 1971.
Of his collaboration with Sinatra - on the album A Man Alone - he wrote, in 1999: "You can imagine how excited I was when Frank Sinatra asked me to write an original album for him.
"What could possibly be nicer, more flattering and challenging than being commissioned by the world's most inventive and popular singer to write and compose something, let alone a whole album.
"It was like winning the Nobel and the Lottery on the same afternoon. Scintillating and scary."
The album included one of McKuen's most popular hits, Love's Been Good to Me.
Dolly Parton, Chet Baker, Glen Campbell and Dusty Springfield are among many artists to have recorded his material.
In the US at least, though, he remains best known for his poetry. He published 30 volumes in all, including the best-selling Listen to the Warm.
Born in California in 1933, McKuen ran away from home at 11 to escape an abusive stepfather. He worked as a stuntman, cowboy and DJ before settling in San Francisco, where he began writing poetry.
The St James Encyclopedia of Popular Culture describes McKuen as having been, at his height, "the unofficial poet laureate of America".
In an article in 2008, the Guardian claimed he was the world's most widely-read poet. "It was in that crossover between lyrics and poetry that he flourished," wrote Ben Myers.
"He went from appearing on poetry bills with Kerouac and Ginsberg to being a far greater seller of poetry than either."
"I think it's a reaction people are having against so much insanity in the world," McKuen once said of how his poetry was embraced.
"I mean, people are really all we've got. You know it sounds kind of corny, and I suppose it's a cliche, but it's really true; that's just the way it is."