Made In Dagenham musical to close in April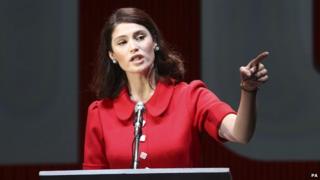 New musical Made in Dagenham is to close at the Adelphi theatre after a West End run of six months.
The producers said they were "sad to have to say goodbye" at a time when new British musicals were "few and far between".
Based on the 2010 film, the production tells the story of the Ford sewing machinists' strike of 1968 over equal pay for women.
It stars actress Gemma Arterton in her first on-stage singing role.
The musical comedy - written by Richard Bean, with music by David Arnold and lyrics by Richard Thomas - began previews in October last year and will add a further two weeks to its booking period before the final performance on 11 April.
The producers are said to be in discussions about a UK tour.
"I'm immensely proud of Made in Dagenham and of everyone involved in bringing it to the stage," said producer Rebecca Quigley, from Stage Entertainment.
"Brand new, British musicals are few and far between - particularly those that can make you laugh and move you in equal measure.
"Our writers, creative team and company have been particularly passionate about telling this true story of a remarkable event in our history with the wit, heart and creativity it deserves. They've achieved that and so much more.
"Of course we're sad to have to say goodbye for now, but to those amazing women who inspired this story, to our wonderful Made in Dagenham musical family and to the hundreds of thousands of people who will have seen the show before 11 April, a very big and heartfelt thank you."
The musical had received largely positive reviews. The Independent said the show demonstrated that it was "a saga well worth making a song and dance about."
While the Daily Mail observed: "One could wonder how much more artistic mileage there is in historic British labour disputes - the equality seam has been overmined. But with its feel-good approach to a long-won battle for fairness, this show will win plenty of friends out for an evening's easy entertainment."
Other recent new musicals to close in the West End include the X Factor-inspired I Can't Sing!; Andrew Lloyd Webber's 1960s-set musical Stephen Ward; and Sir Tim Rice's From Here to Eternity.