Barrie Rutter on giving King Lear a Yorkshire accent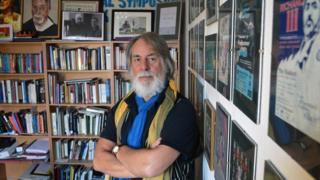 Actor Barrie Rutter first played King Lear 16 years ago when his friend and fellow actor Brian Glover pulled out after being diagnosed with cancer. Rutter is now returning to the role, this time directed by Jonathan Miller.
Holding forth in his office in a former carpet factory in Halifax, Barrie Rutter is about as far from the theatrical establishment as it gets.
Rutter is the antidote to your archetypical luvvie. A redoubtable Yorkshireman, he fought typecasting and convention to set up a theatre company to perform classical plays in a northern voice 23 years ago.
So he sees it as a small triumph that he was appointed OBE in the Queen's New Year's Honours.
"Snuck that one past the establishment, didn't we?" he says with a loud laugh.
The walls of Rutter's office are covered with posters for productions he has acted in or directed with his company Northern Broadsides over the years.
He will need to find room for the new poster for King Lear, which is being masterminded by venerable veteran director and TV presenter Jonathan Miller.
Miller first directed Northern Broadsides two years ago, and Rutter says the director likes the company's "no-nonsense" approach, which "suits his vision of Lear very well".
Miller and Rutter seem poles apart - Rutter has the reputation as the garrulous Yorkshireman, while Miller is the north London intellectual.
But they are united by the fact that they both speak their mind and hold no truck with over-the-top acting, Rutter explains.
Miller wants none of the usual howling and apocalyptic thunder in King Lear's famous storm scene.
"He saw an old man in Lexington Square in New York and the heavens were pouring down and he was just stood there getting wet, mumbling," Rutter says.
"He sees it like that a bit. So the whole thing will be subdued. Not subdued in impact, but not showing the whole machinery."
Rutter first played King Lear in 1999. "I wasn't meant to," he explains.
Barnsley actor Brian Glover was due to play the king and Rutter was going to play his Fool. "And then this awful cancer of the brain attacked him and killed him, bless him," Rutter says.
"The tour was booked by then. You don't find another Brian Glover, do you? So it was obvious I should do it, just for ease.
"I know I was too young, but they do say you should do Lear twice - once when you can and once when you should. I'm 68 now, and you can't tell when your faculties will go, so it's worth it."
Rutter worked extensively at the National Theatre and Royal Shakespeare Company, but became frustrated at not getting Shakespeare's great roles because he had the wrong voice.
He set up Northern Broadsides - so named because he wanted to deliver a broadside to the established theatrical order.
Award winners
Their first production was Richard III, performed in a yacht repair shed in Rutter's home city of Hull in 1992, and their approach earned wide acclaim.
When the government awarded a £100,000 first prize in its Creative Britons awards in 2000, it went to Barrie Rutter.
The company's greatest coup was casting Lenny Henry as Othello in 2009 - leading to a string of awards and a West End transfer.
Northern Broadsides specialises in the classics, but also stages new works - such as last year's An August Bank Holiday Lark, about the outbreak of World War One.
Written by Deborah McAndew - who played Goneril to Rutter's Lear in 1999, as well as Angie Freeman in Coronation Street - it was named best new play at last year's UK Theatre Awards.
The company's mission has not changed over the years, however - a fact Rutter has impressed upon the rest of the King Lear cast.
"I've said to everybody in an email, 'Look, you know what I think. We're called Northern Broadsides. There's a clue in both bloody titles. Stick to it.'"
'Rasping roar'
The new production of King Lear will be set at the time it was written - around 1605.
Rutter says monarchs at that time would not have sounded much different to the rest of the population because received pronunciation - the Queen's English - was a later invention.
Delivering the script in a Yorkshire accent may give the words a "guttural rasping roar", he says, but it will not otherwise change the play.
"They might have spoken a different syntax 400 years ago, the kings. That's how they were differentiated - by attitude and syntax, probably not by sound," he says.
"I'm not trying to turn the clock back and say they were all Yorkshiremen, but that's just what we are."
Today, with fears about opportunities in the arts for people from diverse backgrounds, Rutter believes putting different voices on stage is more important than ever.
'Eton stronghold'
"With the great cuts in education you are going to get a very RP upper-middle-class person going to drama school, aren't you, because of the cost," Rutter says.
The "Eton stronghold", as he calls it, has produced the likes of Eddie Redmayne, Dominic West and Damian Lewis.
"I'm not saying they're not talented. Bloody hell, I saw The Theory of Everything and thought it was a wonderful performance [by Eddie Redmayne].
"We're not talking about people who are there just because of the money.
"But the domination of it coupled with the cuts in education and the high costs for fees does mean that you're probably going to get a very middle-class drama school intake."
'Unfair' funding
The disparity in arts funding between London and the rest of England is another current hot potato. It is natural that the capital gets "a bit more attention", Rutter says, but it is also "unfair because it's a vast country outside London".
"I do think possibly that the OBE was a bit regional," he continues with a hint of sadness.
"I've no evidence for it but I think someone said, 'There's a northerner here who's been on the list forever, as it were. Let's give him it.' It might be."
But Rutter is adept at turning any situation to his advantage, and the thought is unlikely to cause him to lose much sleep.
As well as playing one of Shakespeare's greatest roles, he is also planning to take his company home for Hull's year as UK City of Culture in 2017.
"All the poetics of doing Richard III for our 25th anniversary, starting in Hull as a kick-off, I hope, with Hull City of Culture - they all make sense," he says.
King Lear runs at the Viaduct Theatre in Halifax from 27 February-7 March before touring to Hull, Bath, Cheltenham, Leeds, Scarborough, Liverpool, Salford, York, Kingston and Newcastle-under-Lyme.