Coronation Street drops 25-year-old actress who claimed to be 19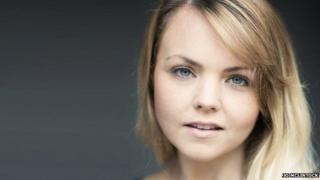 Producers of Coronation Street have dropped actress Katie Redford from the show, after it emerged she gave a false age to win a part as a 14-year-old.
ITV announced Redford was joining the soap last week, playing the role of Bethany Platt, granddaughter to Gail McIntyre.
A press release, issued on Friday, described the actress as 19.
But fans on showbiz site Digital Spy found evidence, including a CV, suggesting she was actually 25.
A spokeswoman for the actress later confirmed she had auditioned "as a 19-year-old".
Producers only became aware of the discrepancy at the weekend, after the discussion gained momentum online.
As a result, ITV announced on Monday morning: "Coronation Street have taken the decision to recast the part of Bethany Platt".
It is understood that producers have another actress in mind for the role, and there will not be a new audition process.
Speaking to BBC Radio 1's Newsbeat, Redford's agent said it "wasn't [Katie's] idea to audition as a 19-year-old.
"People in the industry do it regularly and she sort of went along with what we said," Joanne McLintock said.
"I'm feeling really stressed and so sorry for Katie. It's her first real job and she's a star in the making."
'Dream come true'
The character of Bethany was last seen in 2007 when she moved to Italy with her mother, Sarah Louise.
Bethany was previously played by three child actors - Mia Cookson and Amy and Emily Walton.
The teenager's reappearance paves the way for the return of Tina O'Brien, 31, who plays 27-year-old Sarah Louise.
In its press release last week, ITV said Bethany would be returning to the soap as a regular character.
The statement continued: "Nottingham-born Katie, 19, will debut as tearaway teenager Bethany this spring when she arrives unannounced in Weatherfield from her home in Milan."
It also contained a quote from Redford who said the role was "a dream come true".
"Until I'm actually on set, I genuinely don't think it will sink in that I'm joining the cast of Coronation Street," she added.
The actress, who trained at the National Youth Theatre, had not filmed any scenes before the decision was taken to drop her from the show.