Calvin Harris song breaches Ofcom rules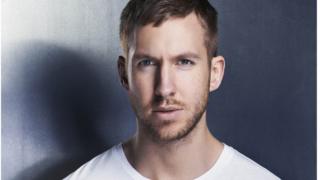 Radio station Kiss FM has been found in breach of broadcasting rules for playing an explicit song by superstar DJ Calvin Harris.
Two listeners contacted Ofcom to complain about the song, Open Wide, which was featured on the Official Kiss Top 40 on 2 November 2014.
The broadcasting watchdog said the "sexually suggestive" lyrics were "clearly unsuitable" at 17:45 GMT.
It reprimanded the station for not listening to the song in advance.
Open Wide features US rapper Big Sean, and is taken from Harris's fourth album, Motion.
The chorus features the lines: "I'm taking off her blouses / While she taking off my trousers," and continues to describe a sexual liaison, employing several swear words.
'Regrettable'
Kiss said it had been offered a "first play" of the track during its chart show, and built the programme around the song, which it had not yet heard.
The station told Ofcom it had made it clear to the record label, Sony, that the song "was to feature on-air and received it in good faith".
However, it said the track which was delivered was "clearly not the expected 'radio-friendly' edit which is deeply regrettable".
The broadcaster added it "would normally broadcast an immediate apology" in the event of offensive content being broadcast.
But as the chart show was pre-recorded, Kiss had to "broadcast an apology in the same show at the same time a week later".
As a result of the incident, it overhauled its procedures for checking the content of new songs, and disciplined the producer in charge of the chart show.
However, Ofcom found the measures were not enough to excuse the broadcast.
Describing Open Wide as containing "sexual references and the most offensive language", it noted the song had been played at "a time when children were particularly likely to have been listening".
The broadcasting watchdog also expressed concern that "in this case, the Licensee [Kiss FM] allowed a track that had not been listened to by station staff to be broadcast".
In other rulings released by Ofcom on 19 January, it found Film 4 in breach of broadcasting codes for broadcasting an uncensored version of the film My Sister's Keeper before the watershed.
However, ITV's This Morning escaped censure for an interview in which Jade Goody's mother, Jackiey Budden, spontaneously swore while describing her attempts to find a new job.
Ofcom took into account the programme was broadcast live and host Phillip Schofield had immediately apologised for the outburst.