BBC 'does not trust' Top Gear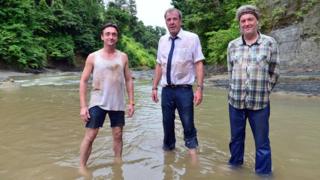 Top Gear's executive producer says the BBC "does not trust" the show after 2014 proved to be its "annus horribilis".
Speaking to Broadcast magazine, Andy Wilman defended the programme's record, after a year in which it was embroiled in several rows over offensive content.
He admitted the Burma special, where Jeremy Clarkson used the racial slur "slope", was "not defensible".
But he added he was "bored" with defending an edition set in Argentina.
The two-part special sparked controversy in South America over a car number plate - H982 FKL - that appeared to refer to the 1982 Falklands War.
The Top Gear crew were chased out of Argentina by veterans and the incident drew vocal complaints from Argentina's ambassador to the UK, Alicia Castro.
"The number plates were a coincidence," Wilman said, adding he would never "jeopardise a whole show" by "winding up" war veterans.
The programme also drew complaints when video footage leaked to the Daily Mirror appeared to show Jeremy Clarkson using a racist term while reciting the nursery rhyme Eeny, Meeny, Miny, Moe.
The presenter later apologised for the incident - which was never broadcast - in a video statement where he "begged forgiveness".
BBC Two, which screens Top Gear, later said it had left Clarkson "in no doubt about how seriously" it took the allegations.
Asked whether Top Gear received enough support from the BBC when it is under fire, he paused for several seconds.
"Sometimes yes, sometimes no," he finally replied.
"What the BBC like about Top Gear is when it's naughty but it's all under control.
"If your show is a bit wayward and naughty, there's an attitude within it. We walk a tightrope most of the time. Sometimes we're going to fall off it. And if you do, that's when the BBC is not a fan.
"Sometimes, I feel they don't trust us at heart."
Official warning
However, Wilman insisted Top Gear's track record was better than its reputation suggested, pointing out that Ofcom had only found it in breach of the Broadcasting Code twice since 2002.
"You can't achieve that kind of record if the show itself isn't smart about what it's doing," he said.
One of those Ofcom rulings came after the Burma special last year.
The programme featured a segment in which the hosts built a bridge on the River Kwai.
Admiring his handiwork as a local man walked across it, Clarkson remarked: "That is a proud moment. But there's a slope on it."
Ofcom, who investigated after two viewers complained, said the use of the word "slope" was offensive and "not justified by context".
Speaking to Broadcast, Wilman said: "I got that wrong."
"I got that wrong because I thought it was a sort of Commando-mad, John Wayne-type film, sort of movie slang. I didn't realise it would be offensive in a bigger way.
"I didn't check it enough and therefore didn't refer it [to the BBC's editorial policy unit]. If I'd have done that, then.... it wouldn't have happened".
Wilman, who was given a warning about the incident and sent on an editorial standards course, insisted Top Gear's travails did not put its future in jeopardy.
"I would hope and think we would continue," he said, adding that conversations about a deal for a new series on BBC Two were "ongoing".
"We're still talking to them and our appetite is still there. We love the BBC - the notion and principle of the BBC. It's a wonderful place to be.
"They're willing [to recommission Top Gear] because the show is working and it's still a good thing to have in the mix.
"I could do with a bit less telling off, but there you go."