Caravaggio dispute lost in court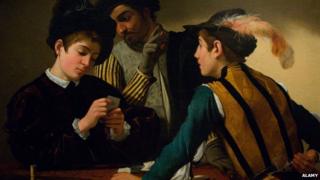 The former owner of a disputed Caravaggio has lost his battle for compensation from an auction house.
Lancelot William Thwaytes sold The Cardsharps at Sotheby's in 2006 for £46,000 after being told it was by a follower of the Old Master.
The new owner subsequently insured the painting for millions - after a close friend, an art expert, claimed it was in fact an original Caravaggio.
Sotheby's maintains the painting is not by the artist.
Mr Thwaytes attempted to sue Sotheby's of London, for giving him negligent advice after the new owner had the artwork valued at £10m.
Lawyers for Mr Thwaytes accused Sotheby's of not consulting enough top experts or sufficiently testing the painting before the 2006 sale.
But the judge at London's High Court ruled the auction house had reasonably come to the view that the quality of the painting "was not sufficiently high to indicate that it might be by Caravaggio".
Birthday party
Sotheby's defended its claim by saying that a number of leading experts have attested to it not being by the artist.
It was also the unanimous opinion of specialists in the auction house's own Old Masters painting department that it was an anonymous copy.
Mr Thwaytes inherited the painting in the 1960s from a cousin, and when he came to sell it Sotheby's catalogued it as by a "follower" of Caravaggio.
The painting was bought at auction by Mrs Orietta Adam, a friend of art collector Sir Denis Mahon, on whose behalf she is understood to have bought the painting.
Sir Denis had it cleaned and restored, and a year later - at his 97th birthday party - he declared that the painting was by Caravaggio and dated back to 1595. Italian scholar Mina Gregori concurred with his opinion.
The painting was loaned to the Museum of the Order of St John at Clerkenwell in London following the death of Sir Denis in 2011, and is insured for £10m.
The original artwork was painted in 1594 and is on show in a museum in Texas. It was a key work in establishing Caravaggio's reputation, and was widely copied.
Mr Thwaytes's legal team said it was considering an appeal.
"Mr Thwaytes is extremely disappointed with the decision delivered this morning and maintains that Sotheby's failed to spot the painting's potential," it said in a statement.
"He brought the case following the public announcement that the painting was an autograph replica painted by the hand of Caravaggio; a view which was supported by a number of leading experts, including Mina Gregori and Sir Denis Mahon."