Sarah Brightman space training delayed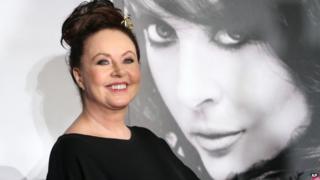 British opera singer Sarah Brightman has missed the start of the space training which will allow her to travel to the International Space Station.
Brightman travelled to Russia for nine months of training, but has delayed the start date by a week.
Russia's space agency is confident she will be ready for the planned 10-day trip in October.
The 54-year-old singer is paying around £34m to become the eighth space tourist.
"She has gone away for family reasons, but she promised to be in Moscow on Sunday," Alexei Krasnov, the head of manned flights at the Russian space agency, told TASS state news agency.
The Phantom of the Opera star is understood to be suffering from a cold.
The singer released a statement late on Friday saying: "It has been an exciting journey since the announcement of my flight in October 2012 and I am very much looking forward to starting my training in Star City."
Dream voyage
Providing Brightman completes the training and passes the medical tests, she will spend 10 days aboard the space station - 260 miles (418 km) above Earth - this autumn.
The last space tourist to make the trip was Cirque du Soleil founder Guy Laliberte in 2009.
Brightman began her career with the dance troupe Hot Gossip, which had a chart hit in 1978 with I Lost My Heart to a Starship Trooper.
She later went on to appear in a number of musicals by ex-husband Andrew Lloyd Webber, becoming a household name.
Speaking when she revealed her space mission in 2012, Brightman said: "This voyage is a product of a dream, my dream. Finally it can be a reality.
"I am more excited about this than anything I have done in my life to date."