Academy Awards A to Z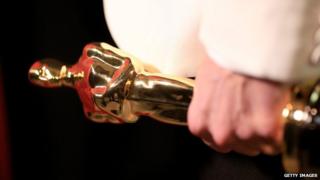 No-one could have predicted when the first Academy Awards ceremony was held on 16 May 1929 that it would grow to the huge event it is today.
With the 87th Awards fast approaching, here is our A to Z guide to the biggest night of the movie calendar.
ACADEMY
Created as a non-profit organisation in 1927, the original Academy of Motion Picture Arts and Sciences was made up of 36 producers and film-makers. Led by MGM studio chief Louis B Mayer, its membership included such notables as Douglas Fairbanks, Harold Lloyd and Mary Pickford. It now boasts more than 6,000 members, a quarter of them actors.
BLEACHERS
Fans desperate to see Hollywood's movers and shakers arriving at the Oscars ceremony can do so by sitting on the specially constructed benches erected outside - provided they register at least six months in advance (camping out overnight was banned after 9/11). The lucky 700 are selected at random and told to arrive at 07:00 on Oscar day, 10 hours before the fun begins.
CAMPAIGNS
Every year, the studios launch elaborate advertising campaigns to persuade Academy members to nominate their pictures. Eligible voters are bombarded with DVDs known as "screeners", occasionally accompanied by lavish promotional material. But new rules introduced in 2012 banned members from attending parties organised by film companies after the nominations are announced.
DOLBY
For years, the Oscar oscillated between the Dorothy Chandler Pavilion at the Los Angeles Music Center and the Shrine Auditorium near the University of Southern California. From 2002, the Oscars were held at the Kodak Theatre on Hollywood Boulevard until Kodak abruptly ended its sponsorship deal after filing for bankruptcy protection in January 2012.
In May that year, Dolby stepped in to sponsor the theatre - beating 10 other bidders for the naming rights. The Oscars will continue to be held there for the foreseeable future.
ENVELOPE
The time-honoured practice of opening the golden envelope to reveal the winner's name is a pivotal part of Oscar lore. It has not always been so, however. For the first 10 years, the Academy informed the press ahead of time in order to accommodate their print deadlines. After one newspaper broke the embargo in 1939, the decision was made to keep the results a closely guarded secret.
FASHION
The Oscars have thrown up more than their fair share of fashion faux pas over the years. Who could forget the bizarre Indian headdress sported by Cher in 1986, or Bjork's swan gown in 2001? Gwyneth Paltrow was criticised by fashionistas in 2002 for appearing sans bra in a transparent top, and Celine Dion came a cropper in 1999 for wearing what appeared to be a back-to-front white jacket.
GOODIE BAGS
Presenters and performers at this year's Oscars can be expected to be handsomely rewarded for their trouble with a complimentary gift package thought to be worth up to $100,000 (£65,733). Previous freebies have included such luxury items as mobile phones, high-definition televisions, designer clothes and holiday vouchers.
HONORARY AWARD
In addition to its competitive prizes, the Academy has a history of presenting special Oscars to ageing stars, industry veterans and well-regarded individuals who have been inexplicably passed over.
Recipients include Peter O'Toole, Kirk Douglas and Robert Redford, while regular host Bob Hope was awarded no fewer than five honorary gongs between 1941 and 1966. The 2014 recipients were actor and musician Harry Belafonte, Irish actress Maureen O'Hara, Japanese director Hayao Miyazaki and French screenwriter Jean-Claude Carriere.
IN MEMORIAM
A regular feature of each Oscar telecast is a montage paying tribute to those notables who have died since the last ceremony. Robin Williams, Lauren Bacall, Richard Attenborough, Eli Wallach, Mickey Rooney, Bob Hoskins, Billie Whitelaw and Luise Rainer - the first winner of consecutive Oscars - are likely to be among those remembered this year.
JEAN HERSHOLT
An actor and sometime president of the Academy. After his death in 1956, his name was attached to an honorary award recognising individuals "whose humanitarian efforts have brought credit to the industry". Recipients over the years have included Gregory Peck, Frank Sinatra and, inevitably, Bob Hope. However, since the mid-1980s, it has been doled out sparingly.
KATHRYN BIGELOW
The first woman to win a best director Oscar for The Hurt Locker in 2010. The film also won best picture.
LOS ANGELES
The Oscars cause a mighty traffic jam each year as up to 1,200 stretch limousines queue up to disgorge their celebrity cargo. In 1988, the congestion was so bad outside the Shrine Auditorium that presenters and nominees, among them Fatal Attraction's Glenn Close, were forced to ditch their cars and jog down the street to make it on time.
MARKSMEN
Fancy gatecrashing the awards? Chances are you won't get within 10 metres of the building. Police snipers are routinely positioned on adjacent rooftops, the area is declared a no-fly zone and all the local manhole covers are welded shut. That said, none of this stopped a pair of pranksters getting through in 2002 with the help of a fake limo pass.
NOMINATIONS
All films must have at least a token US release before 31 December in order to qualify for the following year's awards, but it isn't until the nominations are announced some six weeks before the ceremony that the Oscar race can start proper. The nominees are revealed 05:30 LA time by the current Academy president, usually accompanied by a famous face or two.
OSCAR
How the Academy Award of Merit came by its more familiar sobriquet is still a subject for debate, though most people attribute it to Academy librarian Margaret Herrick's 1931 remark that the award bore a striking resemblance to her uncle. The nickname was in common usage by 1934, but it took another five years for it to be officially adopted.
PRESENTER
Bob Hope holds the record here, having hosted the ceremony 19 times over the course of 39 years. Johnny Carson was a fixture in the 1980s before Billy Crystal inherited his mantle. Last year it was comedian Ellen DeGeneres, while this year's host is actor Neil Patrick Harris - the star of TV comedy How I Met Your Mother.
QUIPS
Part of the host's job is to poke fun at the Oscars themselves. "Two hours of glittering entertainment spread out over four hours" is how Carson described them, while Billy Crystal likened them to Titanic: "We are huge, we are expensive and everyone wants us to go faster." In 2010, Steve Martin deadpanned: "This show was so long that Avatar now takes place in the past." Last year, Ellen Degeneres began her introduction with a reference to the unusual weather in Hollywood: "For those of you watching around the world, it's been a tough couple of days for us. It has been raining. We're fine. Thank you for your prayers."
RED CARPET
Organisers need 16,000 square feet of the stuff outside the Dolby Theatre for the annual fashion parade that, for many, is the highlight of the Oscar ceremony. The hallowed carpet is lined with seven-foot Oscar statuettes that are each given a new lick of gold paint before the event; some 60,000 flowers are grown especially for the various floral displays.
SPEECHES
The record for the longest acceptance speech is held by Greer Garson, who droned on for over five minutes in 1943. John Mills probably made the shortest: In keeping with his Oscar-winning role as a mute simpleton in Ryan's Daughter, the British actor said nothing at all.
TELEVISION
The awards were televised for the first time in 1953, attracting the largest audience in commercial TV's five-year history. But it was not until 1966 that they were broadcast in colour, prompting host Bob Hope to quip: "Now we can see the losers turn green." In 2005, the ABC network was so worried Chris Rock would swear it imposed a five-second time delay.
UPSETS
There have been more than a few of these over the years. Steven Spielberg was gutted when Shakespeare in Love was named best movie in 1999 ahead of Saving Private Ryan, while even Juliette Binoche (right) was shocked when she beat Lauren Bacall to the best supporting actress gong in 1997.
VANITY FAIR
Most of the winners make a token appearance at the Governor's Ball before heading off to a swankier bash. And they don't come more exclusive than the Vanity Fair party which last year moved from its usual location at Sunset Tower hotel to a specially-erected venue on Sunset Boulevard.
WAR
During World War II, the Academy replaced its gold-plated statuettes with plaster ones and outlawed formal wear, while concerns over the situation in Iraq were reflected by a toned-down ceremony in 2003. "You probably noticed there was no red carpet tonight," said host Steve Martin: "That'll send them a message!"
X-RATED
Midnight Cowboy made Oscar history in 1970 by becoming the first (and to date only) X-rated movie to be named best picture. Best actor nominees Dustin Hoffman and Jon Voight both lost out to John Wayne - sweet revenge for the Western veteran, who had had his sexuality questioned in John Schlesinger's gritty New York-based drama.
YOUTH
Tatum O'Neal holds the record as the youngest Oscar-winner after she was named best supporting actress for Paper Moon at the age of 10. (Anna Paquin came close when she picked up the same award for The Piano at 11.) But the youngest Oscar recipient is Shirley Temple, given an honorary award at six for "her outstanding contribution to screen entertainment."
ZERO
The number of awards Steven Spielberg received for The Color Purple after being nominated for a whopping 11 Oscars in 1986 - an ignominious achievement only matched by ballet drama The Turning Point in 1978. In 2011, True Grit bit the dust, failing to win a single prize despite 10 nominations. The same had happened to Gangs of New York in 2003. Richard Harris was nominated seven times without a single win, but the record is held by sound mixer Kevin O'Connell, who has yet to win a Oscar, despite being nominated 20 times.