British Library seeks £40m to 'save' sound archive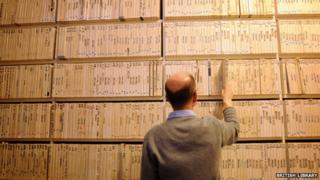 The British Library has launched a campaign to raise £40m to digitise the country's sound archive of more than six million recordings.
The library said around two million of these are fragile and rare recordings.
These are at risk of being lost due to physical degradation and the disappearance of the technology to play them, the library said.
The archive, which includes the voice of Florence Nightingale, is held on more than 40 formats.
These include wax cylinders, lacquer discs, cassette players, reel-to-reel tapes and minidiscs.
The UK Sound Archive includes recordings of local accents and dialects used to monitor the evolution of the English language and sounds of rare or extinct wildlife.
It also includes full recordings of theatre productions going back 40 years, including the opening night of Hamlet in the Old Vic, starring Peter O'Toole and directed by Laurence Olivier.
'At risk'
The British Library estimated it would cost around £18m to digitise the most "at risk" recordings and to build the facilities needed to digitise the remaining two thirds of the collection.
The remaining funds will be used to develop a system to digitally archive the UK's sound output in the future.
The library has estimated that 92% of the UK's current radio output, and 65-70% of the UK's published music output, is not being fully archived.
The institution is also appealing to the public to let them know about any rare or unique sound collections as well as creating a national sound directory in order to identify other threatened collections.