Top Gear in Argentina tops festive iPlayer chart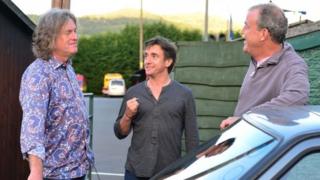 The controversial Top Gear special in Argentina was the most popular iPlayer show over the UK's Christmas period.
There were more than two million requests to view part one of the show, shot in Patagonia, south Argentina.
The two-part special sparked controversy in South America over a car number plate that appeared to refer to the Falklands War.
BBC figures showed a 25% rise in demand for its iPlayer catch-up service, year on year.
There were 227 million requests to view programmes in December and 54.5 million during the UK Christmas week, the highest one-week figure to date.
The second part of the Top Gear special was the third most popular festive show with 1.5 million requests. It attracted 7.8 million viewers in consolidated viewing figures, which include live and time-shifted audiences, but not those on the iPlayer.
The episode showed the team being forced to abandon filming amid protests over the Porsche they were using with the registration H982 FKL, which some suggested could refer to the Falklands conflict between the UK and Argentina in 1982.
The programme makers say the lettering on the number plate was an unfortunate coincidence.
The second most-watched Christmas show on the iPlayer was EastEnders' Christmas Day episode, with nearly 1.7 million requests.
Doctor Who, which has topped the festive iPlayer charts for the last two years, slipped to ninth with one million viewing requests.
The BBC drama also suffered a decline in the consolidated figures falling from 11.1 million viewers in 2013 to 8.28 million viewers this year. However, the 2013 episode attracted special interest, as it saw former Doctor Matt Smith regenerate into Peter Capaldi.
Victoria Jaye, head of TV content for the BBC iPlayer, said: "Christmas on the BBC is an incredibly special time of year, with our broadcast schedules bursting with amazing shows.
"It's also the time of year when we see a significant surge in BBC iPlayer usage, as people all over the country unwrap new devices and take the opportunity to enjoy our terrific range of programmes, at a time that suits them."
---
TOP 10 BBC IPLAYER REQUESTS CHRISTMAS 2014:
1. Top Gear Patagonia Special part 1 - 2,078,700
2. EastEnders (25/12) - 1,689,400
3. Top Gear Patagonia Special part 2 - 1,553,700
4. EastEnders (26/12) - 1,432,900
5. The Apprentice - Final/You're Hired - 1,309,200
6. Miranda: I Do, But To Who? - 1,263,700
7. EastEnders (23/12) - 1,147,100
8. EastEnders (24/12) - 1,107,900
9. Doctor Who: Last Christmas - 1,069,400
10. The Boy in the Dress - 1,058,300