Costa winner's poetry book reprinted after sell-out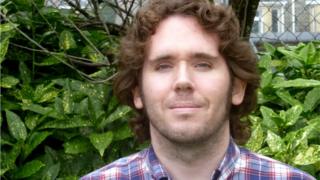 Jonathan Edwards' poetry collection My Family and Other Superheroes has been hastily reprinted after it sold out following his Costa poetry prize win.
Edwards picked up the coveted award for his debut collection, published by Seren. It has since sold out on Amazon.co.uk and at Waterstones.
"We are doing all we can to make sure as many people who want to buy it can get it," said Seren's Mick Felton.
Edwards, who won £5,000 for his efforts, is a teacher from south Wales.
Felton said Seren had ordered a reprint of 1,500 copies in time for the announcement, adding that they will probably have to print more.
"Waterstones have also put in a substantial order, " he said.
Edwards' poetry collection is a humorous account of working class life in the Welsh valleys that features surreal flights of pop culture fancy. One poem is titled Evel Knievel Jumps Over My Family.
"I write a lot about my family, my valleys family," the poet told BBC Radio Wales last year. "But someone told me early on that if I do that, I would be writing poems that only my family would read.
"So I try to broaden it out. I started throwing in these famous people,so I've got all these poems about Ian Rush and Sophia Loren and others."
My Family and Other Superheroes was described as "joyous, brilliant and moving" by the Costa judges.
The book will now compete against the other category winners to be named Costa Book of the Year.
They include Ali Smith, who won the novel award for How to be Both, and the children's book prize winner, Kate Saunders, who triumphed for Five Children on the Western Front, a sequel to E Nesbit's classic, Five Children and It.
The winner of the Costa Book of the Year will be announced on 27 January.