English teacher Jonathan Edwards wins Costa poetry prize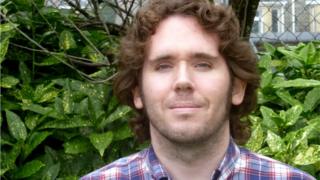 An English teacher from south Wales has won the Costa poetry prize for his first book.
Jonathan Edwards wins £5,000 for his collection My Family and Other Superheroes, which features comedic verse about Evel Knievel, Sophia Loren and a recalcitrant hippo.
Ali Smith, who was made a CBE in the New Year's Honours, also received the Costa novel award for How To Be Both.
Her book previously won the Goldsmiths Prize and made the Booker shortlist.
Focusing on the lives of a grieving teenage girl in the present day and a renaissance artist in the 1460s, it was published in two versions, both with the same cover but with the main halves switched.
Choosing Smith above her fellow nominees Neel Mukherjee, Monique Roffey and Colm Toibin, Costa judges called How To Be Both "truly dazzling and inventive".
The Scottish author previously won the Costa debut novel award in 2005 for The Accidental.
Edwards' poetry collection is a humorous account of working class life in the Welsh valleys, with surreal flights of pop culture fancy. One poem is titled "Evel Knievel Jumps Over My Family".
"I write a lot about my family, my valleys family, but someone told me early on that if I do that, I would be writing poems that only my family would read," the poet told BBC Radio Wales last year.
"So I try to broaden it out. I started throwing in these famous people so I've got all these poems about Ian Rush and Sophia Loren and others."
My Family and Other Superheroes was described as "joyous, brilliant and moving" by Costa judges.
Hawk memoir
Both Edwards and Smith go forward to contend for the £30,000 Costa Book of the Year award.
Also in the running are the books selected for the debut novel, biography and children's book awards.
Former bookbinder Emma Healey won the debut novel prize for Elizabeth Is Missing, the story of a senile sleuth struggling with memory loss.
Kate Saunders' Five Children On The Western Front, a follow-up to the 1902 novel Five Children And It by The Railway Children author E Nesbit, scooped the children's category.
The biography prize went to Helen Macdonald's H is for Hawk, a memoir about how becoming a falconer helped her deal with grief after her father's death.
The book, which has already won the Samuel Johnson Prize for Non-Fiction, was described as "unique and beautiful" by the Costa panel.
The judges, led by best-selling novelist Robert Harris, will announce the overall winner at a ceremony in central London on 27 January.
Previous winners include Hilary Mantel and Nathan Filer whose debut novel, The Shock Of The Fall, won last year.
---
COSTA BOOK AWARDS 2014
2014 Costa Novel Award
Ali Smith for How to be Both (Hamish Hamilton) - winner
Neel Mukherjee for The Lives of Others (Chatto & Windus)
Monique Roffey for House of Ashes (Simon and Schuster)
Colm Toibin for Nora Webster (Viking)
2014 Costa First Novel Award shortlist
Emma Healey for Elizabeth is Missing (Viking) - winner
Carys Bray for A Song for Issy Bradley (Hutchinson)
Mary Costello for Academy Street (Canongate)
Simon Wroe for Chop Chop (Viking)
2014 Costa Biography Award shortlist
Helen Macdonald for H is for Hawk (Jonathan Cape) - winner
John Campbell for Roy Jenkins: A Well-Rounded Life (Jonathan Cape)
Marion Coutts for The Iceberg: A Memoir (Atlantic Books)
Henry Marsh for Do No Harm: Stories of Life, Death and Brain Surgery (Weidenfeld & Nicolson)
2014 Costa Poetry Award shortlist
Jonathan Edwards for My Family and Other Superheroes (Seren) - winner
Colette Bryce for The Whole and Rain-domed Universe (Picador)
Lavinia Greenlaw for A Double Sorrow: Troilus and Criseyde (Faber & Faber)
Kei Miller for The Cartographer Tries to Map a Way to Zion (Carcanet)
2014 Costa Children's Book Award shortlist
Kate Saunders for Five Children on the Western Front (Faber & Faber) - winner
Simon Mason for Running Girl (David Fickling Books/Random House Children's Publishers)
Michael Morpurgo for Listen to the Moon (HarperCollins Children's Books)
Marcus Sedgwick for The Ghosts of Heaven (Indigo)