Christen Kobke's romantic sunset painting is sunny day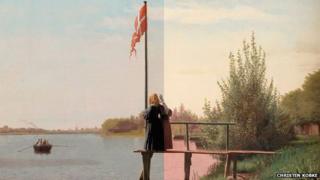 Christen Kobke's famous painting of Copenhagen's Lake Sortedam has dramatically changed colour over time, according to experts.
The work by the Danish painter was believed to show a sunset with the red glow of the evening sun creating a purple sheen on the water.
However scientists and conservators in Denmark say View of Lake Sortedam is actually of a sunny summer's day.
They claim the original colours have changed since it was painted in 1838.
Scientific analysis of the painting was carried out by scientists at the Centre for Art Technological Studies (Cats) and conservators at the National Gallery of Denmark.
"We noticed that the colours along the edges near the frame were different from the colours in the rest of the painting," said Troels Filtenborg, head conservator of painting at the gallery.
"And the difference became even more noticeable when the painting was taken out of its frame entirely."
It is believed the colours have changed due to a chemical reaction in the blue pigment, known as Prussian blue, and been made worse by 176 years of exposure to light.
The sky has become paler and lighter and the lake, which is now a reddish colour, was originally a bluish grey.
The painting was bought by the Danish king in 1839 and remained in his private apartment in Christiansborg Castle for 25 years.
It went on public display in 1864 at the Royal Picture Gallery and then at the National Gallery when it was established in 1896.
Kobke is known for his romantic artworks during the Danish Golden Age in the 1830s.
After travelling to Italy in 1838, Kobke stopped painting romantic scenes, opting for sketches from his travels.