Hobbit finale retains UK box office lead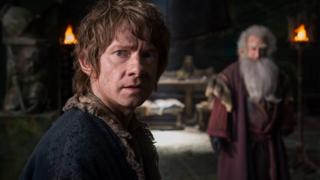 The final instalment of The Hobbit, The Battle of the Five Armies, has claimed top spot in the UK box office for a second week in a row.
The film took £5.4m, ahead of second-placed Paddington which made £2.5m in its fourth week of release.
Family movie Night At The Museum: Secret of the Tomb had to settle for third place in its opening week.
Dumb and Dumber To, sequel to the knockabout comedy released 20 years ago, was at four after making £1.8m.
Its opening week at the US box office was more impressive, raking in $36.1m (£23.1m).
Night at the Museum - the third of three films to date - had its least lucrative opening in the UK of the trilogy.
It looks unlikely to match the performance of its two predecessors, which both surpassed the £20m mark.
UK and Ireland box office
1. The Hobbit: The Battle of the Five Armies - £5.4m
2. Paddington - £2.5m
3. Night At The Museum: Secret of the Tomb - £1.85m
4. Dumb and Dumber To - £1.8m
5. Penguins of Madagascar - £723,939