Tom Brokaw cancer 'in remission'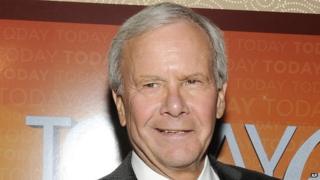 Veteran newsman Tom Brokaw has revealed that the cancer he was diagnosed with last year is in remission.
"A year ago my future was more uncertain than I cared to acknowledge but now I face the New Year with very encouraging news," the former news anchor told staff at the NBC network.
"The cancer is in remission and I will shortly go on a drug maintenance regime to keep it there."
Brokaw, 74, revealed in February he had been diagnosed with multiple myeloma.
The cancer affects blood cells in the bone marrow and there is currently no cure.
According to Myeloma UK, however, survival of myeloma patients has improved at a faster rate than any other cancer in the UK in the last 10 years, mainly due to the availability of new drugs.
In a letter distributed to NBC employees, Brokaw said the last year had been "a challenge" but that he had been "meeting it in world class hospitals with brilliant physicians".
The Emmy-winning broadcaster is a special correspondent at NBC, having spent 20 years presenting the network's Nightly News bulletin.
Last month Brokaw was awarded the Presidential Medal of Freedom alongside such other distinguished honourees as Stevie Wonder and Meryl Streep.
"We trusted him to tell us what we needed to know and to ask questions that needed asking," said President Obama at the White House ceremony.
'I know, because I have been on the receiving end of some of those questions."