Television in 2015: A look ahead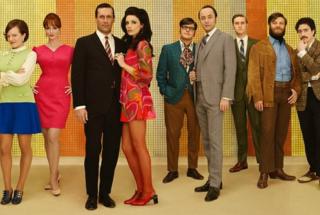 To begin at the end, 2015 will see audiences saying farewell to two of television's biggest shows.
The final seven episodes of the multi-award-winning Mad Men will air in the new year - and viewers who have followed the inner workings of a New York ad agency, and its mercurial Creative Director Don Draper (Jon Hamm) will be keen to see how his story ends.
The last series of Glee will also air - with Rachel (Lea Michelle) and Kurt (Chris Colfer) returning to McKinley High to bring the Glee Club back to life.
Other likely drama highlights should include the fifth series of Game of Thrones - the epic fantasy has gone from strength to strength although, for the first time, author George RR Martin will not be writing a new episode, as he concentrated on finishing the sixth novel in the series, The Winds of Winter.
A second series of ITV's murder thriller Broadchurch is also due, where the challenge will be creating as compelling a narrative as that explored in the first series.
The second series of True Detective faces a similar challenge - introducing new cast members Vince Vaughn and Colin Farrell after the departure of Matthew McConaughey and Woody Harrelson.
With audiences increasingly enjoying shows on streaming-only services, the third series of House of Cards will also be a must-view for people eager to see how devious Frank Underwood (Kevin Spacey) fares upon reaching the Oval Office.
And the new year will also see award-winning writer Russell T Davies returning to the world of gay drama - 15 years after Queer As Folk - with Cucumber on Channel 4 and its companion series Banana on E4.
Cucumber follows a couple in their mid-40s whose sex life has stalled. The storyline is set in motion when one of them seeks satisfaction elsewhere. The resulting fallout sees Henry (played by The Thick of It's Vincent Franklin) move into a new drama, Banana, set in a "big gay house" full of younger people.
Despite not being shown for much of its run on traditional broadcasting platforms in the UK, Breaking Bad is widely regarded as one of the biggest and most influential shows of the last five years.
TV spin-offs often range from the hugely successful (Frasier) to the disappointing (Joey). But expectation will be considerable for Breaking Bad spin-off Better Call Saul, a kind of prequel which follows the adventures of the morally ambiguous lawyer Saul Goodman (Bob Odenkirk).
It will be hoping to conjure up a narrative that Breaking Bad fans will feel just as passionate about.
In the entertainment world, British writer and performer James Corden, recently made an OBE in the New Year Honours, will take on one of the most high-profile jobs in TV when he becomes the host of talk show The Late Late Show on America's CBS network in March.
Speaking to the BBC, Corden admitted he was "apprehensive" and "completely unqualified" for the job.
"I feel like someone has tapped me on the shoulder and said congratulations, you're in the Tour de France team! It's going to be a real adventure. I'm 16 stone and I'm from High Wycombe so it couldn't feel more random."
His appointment comes as part of a US chat show reshuffle, with satirist Stephen Colbert due to replace David Letterman, who has spent the last 22 years hosting The Late Show on CBS.
Back at home, The Great British Bake Off will be hoping to maintain the huge audiences it enjoyed during its 2014 series, following a successful move from BBC Two to BBC One.
Meanwhile, ITV is reviving Gerry Anderson's Thunderbirds series, combining the puppetry of the original with CGI animation. Gone Girl star Rosamund Pike plays the role of Lady Penelope, while veteran voice artist David Graham reprises his role of Parker, her chauffeur.
Other series of note include:
Wolf Hall (BBC Two) - A lavish adaptation of Hilary Mantel's account of Thomas Cromwell's life in politics. The stellar cast includes Mark Rylance, Claire Foy, Mark Gatiss and Damian Lewis as Henry VIII
Fortitude (Sky Atlantic) - An ambitious murder-mystery set in the Arctic Circle. Oscar-nominated actor Stanley Tucci is joined by Michael Gambon and Christopher Eccleston, amongst others
Partners In Crime (BBC One) - David Walliams and Call The Midwife's Jessica Raine star in a new series for Agatha Christie's husband-and-wife detective team Tommy and Tuppence (pictured above)
The Frankenstein Chronicles (ITV Encore) - Sean Bean faces Mary Shelley's monster in a new detective drama series
American Crime (ABC) - Screenwriter John Ridley's follow-up to the Oscar-winning 12 Years a Slave looks at how the murder of a war veteran stokes racial and political tensions in California
Indian Summers (Channel 4) - Julie Walters stars in this epic 10-parter looking at the last days of the British empire in India
Happy Valley (BBC One)- Recently voted the best TV show of 2014, Sarah Lancashire's grim detective series returns for a second outing (pictured above)
Critical (Sky 1) - A real-time medical drama that follows the most crucial hour in a critically-ill patient's life, starring Lennie James (The Walking Dead)
Bloodline (Netflix) - A star-studded psychodrama from the team behind legal thriller Damages
The Ark (BBC One) - Starring David Threlfall as Noah in a lavish adaptation of the biblical tale
Stars In Their Eyes (ITV1) - Yes, that Stars In Their Eyes. Harry Hill takes over from Matthew Kelly as the host of the karaoke talent show
Sherlock (BBC One) - Benedict Cumberbatch returns for a one-off special ahead of a full three-part series in 2016.
Daredevil (Netflix) - A superhero show from the Marvel Comics stable, with Boardwalk Empire's Charlie Cox as a blind lawyer gifted with extrasensory perception. Rosario Dawson and Vincent D'Onofrio also star in the 10-part series.
Agent Carter (ABC) - Another Marvel spin-off, starring Haley Atwell's character from the Captain America films (pictured above).
Jekyll & Hyde (ITV) - Written by Young James Bond author Charlie Higson, this 10-part series is set in the 1930s as Dr Jekyll's descendants contend with his legacy.
Lady Chatterley's Lover (BBC One) - Holliday Grainger plays the love-struck Lady, as part of a series of BBC adaptations of classic 20th Century literature.
Peep Show (Channel 4) - A happy resolution looks unlikely as Mark (David Mitchell) and Jez (Robert Webb) say goodbye.
Hoff The Record (Dave) - David Hasselhoff plays himself in a Curb Your Enthusiasm-style mockumentary.
Among factual television's most talked programmes have been the Educating... series, which began with Educating Essex, followed by Educating Yorkshire and Educating the East End. In 2015 it will be the turn of a Welsh school - as the fly-on-the-wall series follows the lives of pupils and staff at Willows High School in Tremorfa.
2015 will of course be a general election year. For as long as many can remember, the BBC's Election Results programme has been the David Dimbleby show. He's hosted it since 1979 when Margaret Thatcher became Prime Minister, defeating Jim Callaghan.
This one will be Dimbleby's last, with Huw Edwards taking over in the future. Meanwhile, one of Dimbleby's former co-presenters, Jeremy Paxman, will be hoping to draw a record audience when he fronts Channel 4's coverage.
Staying with the election, back in 2010, the Leaders debates seemed relatively straightforward: Three leaders, three debates, shared between the BBC, Sky and ITV.
In 2015, the situation looks likely to be far more complex, with other parties hoping and expecting to be included in some form, with online platforms also likely to become involved. And, just like five years ago, huge audiences could be watching, especially if the result looks to be close in the run-up to polling day.