Woman in Black takes new direction without Radcliffe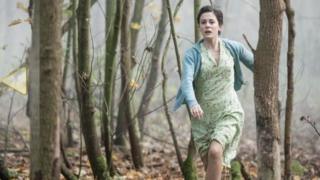 It's the most successful British horror film since records began, making more than £80m at the global box office. So it was perhaps inevitable that a sequel to Hammer's 2012 hit The Woman in Black would be commissioned - but it would be lacking one vital factor: Daniel Radcliffe.
The Woman in Black: Angel of Death is the follow-up to the first film, based upon the original novel by Susan Hill from 1983. But Radcliffe, star of the Harry Potter franchise, would not be available to star in the sequel.
"Mainly because his character dies," apologises producer Simon Oakes, who is also the CEO of Hammer Films, the British horror brand that was itself brought back from the dead in 2007. "And yes, I know that wouldn't stop any Hollywood executive, and I did consider him playing a ghost.
"But there was always an unwritten pact between myself and Daniel that if the first film was a success, I wouldn't put him through years of sequels after 12 years of being Harry Potter.
"So it was never going to happen. Instead, in collaboration with Susan Hill, we've set the story far ahead in time, but with another story involving the Woman in Black."
The sequel, starring Helen McCrory of BBC Two series Peaky Blinders, War Horse's Jeremy Irvine and newcomer Phoebe Fox, is set in World War Two, again based at Eel Marsh House.
Oakes says he had "not so much a wobble, but an honest conversation with myself" about how much the first film's success had relied upon Radcliffe's star power, before giving a second film the go-ahead.
"It was the most successful Hammer Horror film ever in the US, and it made around £20m there," he explains, "and I would be lying if I said we were expecting it all along to be such a hit.
"The book and the adapted play have passed into the vernacular in Britain, but in the US? Not at all. So yes, there's no doubt that Daniel's name helped us," Oakes admits.
"I think what made me believe that the film's success wasn't just about Daniel Radcliffe was that it did better box office here in the UK in the third week of release than in the first.
"In total, there were five million admissions in this country, and I think what happened is that first the Daniel fans came in their thousands, and once the Potter crowd came through I think we had an older audience, maybe told by their teenagers, 'it's a really good movie, you should see it.'
"It will be interesting to see what happens, particularly in the USA, as to whether it really was all down to Daniel. I think it was part of it but not all of it."
Impossible act to follow
Oakes is hoping an unknown, female actress can draw in the crowds this time round.
"This time though there is a female lead, and we chose a total newcomer in Phoebe Fox. It is partly to do with not being able to follow up with another hero to compare with Daniel Radcliffe, and partly because even better known actresses also found Daniel an impossible act to follow.
"The key demographic audience in horror films, believe it or not, is actually women and girls, aged between 16 and 24.
"It's because they tend to lend themselves to date films, or girls go to be scared together. It will be interesting to see how they relate to a heroine."
The original Woman in Black beat even successful home-grown horrors like Shaun of the Dead and 28 Days Later at the box office, a phenomenon Fox attributes "to the back story of the Woman in Black, Jennet Humfrye".
Humfrye haunted Eel Marsh house, following the death of her illegitimate son.
"We know how and why she died, in tragic circumstances. It makes people connect with her, I think."
Adding that the only way to make "a successful horror film is to make people care about the characters", Oakes acknowledges that the historical setting and storylines make it "different to other films in the genre, and in some ways, family-friendly".
"The Woman in Black is scary," Oakes says, "but I believe the horror film has been twisted by torture porn movies that have come out of the USA. It's a beloved genre, and a literary one as well, if you think about Mary Shelley and Bram Stoker.
"I think these stories can find a wider family audience, and it's entirely our intention to do that with Hammer. The first film got a 12A rating and I was fine with that, but it was complained about, and so it's a 15 for this one.
"I think young people see worse things in video games all the time. This is all about the atmosphere, the sense of dread we are creating, and also the characters," he says.
"There's something very British about this," Irvine continues. "It's a very different beast to American horror. There's a subtlety to this that I find peculiarly British. I think that's true of all Hammer films."
Noting that "Hammer needs to make it as a brand in America still", Oakes says his eyes will be on its worldwide release in January before discussing making a third film.
"The old Hammer made interminable numbers of Draculas and Frankensteins and ran out of steam. Obviously if this one does well then I think we can call it a franchise. We have some ideas of what a third film would look like but we need to see what happens with this one."
The Woman in Black: Angel of Death is released in the UK on 2 January.