Hilary Mantel attacks critics of Thatcher radio broadcast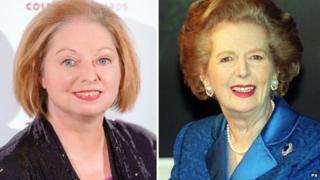 Hilary Mantel has responded to critics of the BBC's decision to broadcast her short story The Assassination of Margaret Thatcher on BBC Radio 4.
The story, imagining the assassination of the former prime minister, is due to feature on Book at Bedtime in January.
Lord Tebbit criticised the decision, calling it a "sick book from a sick mind" and accused the BBC of being deliberately provocative.
But Mantel dismissed the comments as "froth and bile".
Lord Tebbit, who served in Baroness Thatcher's cabinet in the 1980s, described the BBC as a "sick broadcasting corporation" and called on director general Tony Hall to stop the broadcast.
"The serialisation should never have gone ahead and, if Tony Hall was worth his gigantic salary, he would stop it," he said.
Lord Bell, Baroness Thatcher's former PR guru, also criticised the decision, saying the BBC was "inevitably going to be accused of political bias".
"If it really was independent it would avoid doing things that were provocative," he said.
Mantel responded: "I recognise that this latest nonsense from the Mail [on Sunday] is not about me or my work; it's a skirmish in a war with the BBC," the double Booker Prize winner told The Guardian.
"A couple of days back I spoke in praise and support of the TV adaptation of Wolf Hall, which the BBC will show next year. Possibly this has triggered the bout of froth and bile."
Set four years after Baroness Thatcher took office in 1979, Mantel's story imagines the killing of the prime minister by an IRA sniper.
It proved controversial when it was published in a collection of 10 short stories in September.
'No need to justify'
The author said she was "delighted" the BBC would broadcast a selection of the stories.
"My title story has the form of a debate," she said. "It demonstrates how very easily history could have worked out in a different way.
"There is no need for me or any writer to justify or explain herself to people who have no interest in fiction except when it feeds their dim sense of being injured in some way. The story speaks for itself, and I stand behind it."
A BBC spokeswoman said: "The work of Hilary Mantel - a double Booker Prize-winning author - is of significant interest to the public and we will not shy away from the controversial subject matter that features in one of the four stories read across the week."
Dame Harriet Walter will read the story when it is broadcast on 9 January.
Charles Moore's official biography of Baroness Thatcher previously featured on Radio 4 as Book of the Week.