Steve McQueen saddened by US race protests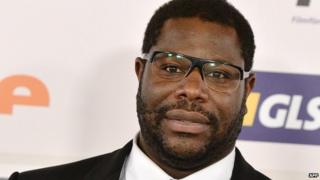 Steve McQueen, the Oscar-winning director of 12 Years A Slave, says he is "very, very sad, but not surprised" by recent racial tensions in the USA.
The British filmmaker was speaking at the European Film Awards in Latvia, where he was receiving an European Achievement prize for World Cinema.
McQueen said he was "not surprised at all" by the protests, which followed separate decisions not to indict two white police officers for the deaths of two unarmed black men: Michael Brown and Eric Garner.
"I wish I could say I was surprised by this. It's just very sad that it's continuing and there's no end to it.
"I don't know what else to say, except they just have to continue to try to find a way through it."
McQueen, whose film 12 Years A Slave won the coveted Academy Award for best film this year, also remarked that he was "saddened" by leaked emails between Sony chairman Amy Pascal and film producer Scott Rudin, which contained "inappropriate" remarks about President Obama.
"I know Scott very well and I've had acquaintances with Amy Pascal. They were extremely generous to me. It just makes me sad.
But he adds: "Am I surprised? I'm never surprised, to be honest."
The London-born director, who began his career as a visual artist, holds the rare triumvirate of an Oscar, a Bafta and the Turner Prize.
McQueen, whose previous films include Shame and Hunger, is currently developing a movie about the life of the 20th century US entertainer and civil rights campaigner Paul Robeson.
He says it is Robeson's social activism that "takes my breath away".
"He was a sports star, an entertainer, he saw the frontline of the Spanish Civil War, he met striking Welsh miners, he later became a civil rights campaigner... but there's also such tragedy there. They don't make lives like that any more.
"It's been on my mind since my first film, Hunger, but I didn't have the ability to make it back then."
He adds that "there probably will be" a part for actor Michael Fassbender in the project, with whom he has worked on all three of his films.
"If Michael wants to do it, I'm sure there'll be something for him. He means very much to me, and we met at a pivotal time in both our lives.
"It's important to me to keep my original group of British and Irish-born creative people close to me wherever I work, whether it's my producers, cinematographers, or indeed Michael Fassbender.
"They are instrumental to what I do, they're not going to change."
In recent months, McQueen has also directed a television pilot entitled Codes of Conduct, with Helena Bonham Carter and newcomer Devon Terrell, about a young black man's entry into New York high society.
He has also reconfirmed that he is directing a BBC drama series about the lives of black Britons.
But the director insists that he "doesn't want to become the spokesman for anything".
"When we talk about 'these kinds of issues' - there are no issues and I'm not a spokesman. I am just a filmmaker and an artist.
"It's all about the experiment for me. I am not a flag-waver. It's all about seeing what's out there and what I can see through a lens. It's about the everyday for me."
"However, I think all artists have a responsibility in what they do, and I think being an activist of some kind is part of the DNA of being an artist. I think they are inseparable.
"You always, always have to take risks. That's the biggest thing I've learned."
McQueen's meteoric rise - he made his first feature film aged 38, and won an Academy Award for his third - has pitched him headlong into the arms of Hollywood, but he is still eager to retain control.
"For me now, it's about trying to make pictures that are necessary. But I need to keep creative control of what I put my name to, I don't know any other way of operating."
The director credits Brad Pitt's star power with getting 12 Years A Slave made, adding that its subsequent success "shows there is an audience out there for serious cinema".
And while winning an Oscar "hasn't necessarily made it easier to make a film... people are now excited to hear about what I want to do next".
"That's the big difference awards make. That - and when you're up there receiving that recognition - the fact you can inspire people with their own dreams.
McQueen is also working on a heist feature film based on Widows, the 1980s ITV mini-series by Lynda La Plante, about a group of women who become armed robbers after the deaths of their husbands.
"It is a bit different for me," he concedes, "but I'm not trying to make things that are painful and dark.
"It's not about a strategy. I am interested in things that are contributing to our everyday, whether historically, or in the present."
"We live in a far from perfect world. I guess I'm just trying to navigate myself around this sweet cesspool without getting anything on my shoes."
A full list of winners at the European Film Awards 2014 is available on the official website .