Ed Sheeran 'owes career to Spotify'
By Mark Savage
BBC News entertainment reporter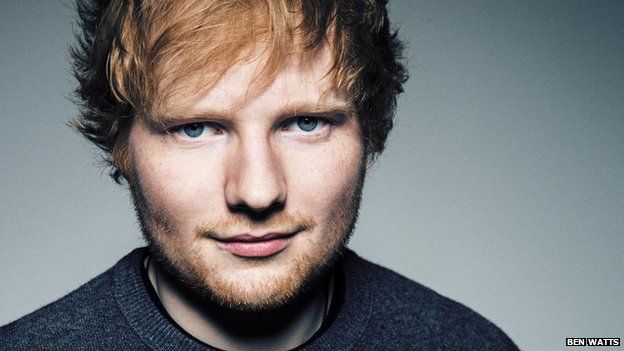 Ed Sheeran has bucked the trend for criticising Spotify, saying his popularity on the site enabled him to play three nights at Wembley Stadium.
"My music has been streamed 860 million times, which means that it's getting out to people," he said backstage at the BBC Music Awards.
"I'm playing sold-out gigs in South America, I've sold out arenas in Korea and south-east Asia.
"I don't think I'd be able to do that without Spotify."
"For me, Spotify is not even a necessary evil. It helps me do what I want to do."
The star's comments come after artists like Taylor Swift and Thom Yorke pulled their music from the streaming music site.
Swift deleted her back catalogue from the service a week before her new album, 1989, came out - helping it become the first record to sell 1.287 million copies in the US, the highest first-week sales since 2002.
The singer, who has been romantically linked to Sheeran, has also criticised Spotify's royalty rates, which average $0.007 (£0.0045) per play.
"Rare things are valuable. Valuable things should be paid for. It's my opinion that music should not be free."
She is not the first to protest. The Beatles, AC/DC and The Black Keys are all unavailable on Spotify, while earlier this week Paul McCartney told the BBC he worried about how young musicians would make a living under the streaming business model.
Sheeran said he respected other artists' viewpoints, but he felt the current royalty rates were fair.
"I think Spotify are paying the right amount," he told the BBC.
"We're just not seeing it, because the labels aren't making as much as they used to, so they want to keep a lot of the money that Spotify give them, and not pay it out to us. Which is the truth. It is the truth."
"I get a percentage of my record sales, but it's not a large percentage. I get [the profits from] all my ticket sales, so I'd rather tour.
He added that many of the artists withholding their music were proven best-sellers.
"Taylor has been around for eight or nine years. She comes from an era where you do sell records - it's only been in the past five years where it's really deteriorated - so people buy her records and it doesn't feel too foreign.
"Whereas I came through in the streaming generation. All my fans started off being students at university file-sharing my music, so it's a different generation.
"She can sell records and I can get streamed, because that's the generation I come from."