Alan Rusbridger to step down as Guardian editor-in-chief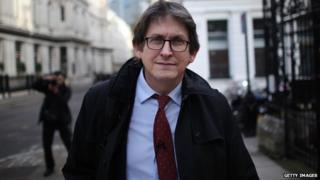 Alan Rusbridger is to step down as editor-in-chief of the Guardian newspaper next summer, after 20 years in the role.
Mr Rusbridger is leaving to take up the position of chair of the Scott Trust, which owns Guardian Media Group.
He said he felt privileged to have held the role at the Guardian and was honoured to take up the new post.
His successor as editor-in-chief will be announced in "due course", a Guardian statement said.
'Extraordinary' time
Mr Rusbridger will succeed Dame Liz Forgan as chair of the Scott Trust.
In an email to staff, Mr Rusbridger said his time in the top job had been "quite an extraordinary period in the life of the Guardian".
He said: "In global journalism, there are a handful of roles that have the capability to redefine our industry.
"I am privileged to have held one of those roles for 20 years, a period in which successful newspapers have become global content providers, reaching audiences in dramatically new and valuable ways."
He added: "We have strong future leaders in place with unparalleled news and digital experience, and I know that our journalism will be in the best possible hands."
Investigative journalism
BBC correspondent Nick Higham said the length of Mr Rusbridger's editorship had been a sign of "stability".
Mr Rusbridger had been "instrumental" in the paper's pursuit of investigative journalism - including when it published details of controversial files leaked by Edward Snowden and Wikileaks, our correspondent said.
Earlier this year, the Guardian and the Washington Post were awarded the Pulitzer prize for public service journalism for a series of stories on US electronic spying, based on documents leaked by former National Security Agency contractor Edward Snowden.
Mr Rusbridger appeared before the Home Affairs Select Committee in 2013, where he defended publishing details of the files.
Mr Rusbridger joined the Guardian in 1979 as a reporter and became editor in 1995, succeeding Peter Preston.
Under his management, the paper moved from its office in London's Farringdon to Kings Cross and embraced digital journalism.
Recently, the paper has attempted to become an international brand with offices in Australia and the United States.
Mr Rusbridger had also changed the size of the newspaper from broadsheet to Berliner format.
'Outstanding editor'
Neil Berkett, chairman of Guardian Media Group, said: "Alan has set the standard for journalistic leadership in the digital age.
"His appointment to lead the Scott Trust coincides with rapidly rising readership, continued innovation and secure finances at the Guardian.
"His successor will inherit a global media organisation in very strong health and with clear prospects for further growth."
Dame Liz said Mr Rusbridger had been the "outstanding editor of his generation".
She said: "We are delighted that the Scott Trust and the wider group will continue to benefit from his experience, overseeing the independent body that guarantees the editorial integrity and commercial future of the Guardian."
Steve Hewlett, who presents Radio 4's Media Show, said there had been no signs that Mr Rusbridger was losing his appetite for journalism in recent years.
But there have been persistent rumours about his future, so "discussions will have occurred" about a successor, he said.
People at the paper will be "very very sad" to see Mr Rusbridger leave, he added.