BBC Three proposals are unveiled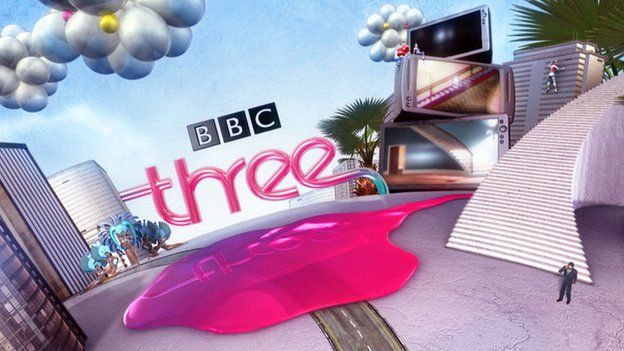 Plans for the future of BBC Three have been announced, including a move to online broadcasting 24 hours a day and an emphasis on long form content.
The remodelled service will offer tailored content based around comedy and thought-provoking programming.
The removal of the channel from digital terrestrial will make room for a BBC One+1 service, while CBBC will be extended by two hours in the evening.
Director general Tony Hall called it an "exciting and ambitious proposal".
He added the proposals - which will generate savings of £50m for the corporation - were "difficult decisions" in the face of a frozen licence fee.
The plans will have to be approved by the BBC Trust, who will consult with the public from the beginning of next year.
The channel will move from nine hours a day to a 24-hour, always-on service
Programmes like Snog, Marry, Avoid and Don't Tell The Bride are likely to be jettisoned in favour of harder-hitting content
80% of budget will be spent on long-form programmes like Murdered by My Boyfriend and Bad Education
20% of budget will go on non-traditional content - such as micro-videos, listicles and gifs
A daily news service will be created in conjunction with Radio 1's Newsbeat
Programmes will not just live on iPlayer, but will be distributed on third party sites including YouTube and Facebook
Traditional genres like drama and comedy will be replaced by the strands "Make Me Think" and "Make Me Laugh"
Moving BBC Three to online will allow CBBC to broadcast for an extra two hours in the evening
It will also allow for a BBC One+1 channel to be launched
The new online version of BBC Three will involve different forms and programming formats, varying durations and interactive content.
Damian Kavanagh, who is leading the proposals, said BBC Three would be "reinvented for the digital age" and reflect the growing trend of young people consuming television online.
"This is not moving a TV channel and putting it online. This is new. We are the first broadcaster in the world to propose something like this," he added.
Kavanagh said the move online could prove liberating. Programmes would not have to last 30 or 60 minutes to fill a specific timeslot, allowing them to tell stories at their own pace.
Budgets for prestige drama and documentaries would also be protected because BBC Three would "make less stuff", having been freed from the constraints of a linear TV schedule.
"We don't have to fill every slot with long-form content night after night," Kavanagh said, comparing the new model to video streaming service Netflix.
The new BBC One+1 channel - which will occupy the space left by BBC Three - will enable viewers without access to broadband and iPlayer greater availability to programmes.
The BBC has been keen to stress linear TV is still important for younger audiences.
The corporation's boss Lord Hall added that this was an example of the BBC embracing a new age in broadcasting.
"By searching out new ways to engage and entertain young audiences on their terms, the new BBC Three will be a great example of how we can reinvent the public service for the digital world - using their talent, appearing on the platforms and devices that they use and talking to them as equals and partners," he said.
The BBC's director of television Danny Cohen admitted that the changes would lead to an "initial drop overall" in viewing figures, adding "that's why we want BBC One and BBC Two to pick up the weight".
Mr Cohen said that the introduction of a BBC One catch-up channel was a significant part of the proposals, "because we know those +1 channels are very important to people".