Phill Jupitus: Why I'm avoiding Star Wars trailer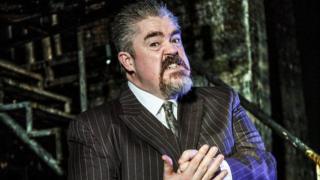 Star Wars fans across the globe rejoiced last month when the first teaser trailer for JJ Abrams' keenly anticipated continuation of the saga was unveiled.
Yet comedian Phill Jupitus, star of TV shows including QI and Never Mind the Buzzcocks - and a one-time aficionado of George Lucas's intergalactic saga - was pointedly not one of them.
Jupitus, who is currently playing a villainous tycoon in West End musical Urinetown, used to perform a stand-up show in which he talked about the series and performed a spot-on impression of Chewbacca the Wookiee.
So far, though, the 52-year-old has yet to watch the 88-second trailer for Star Wars: The Force Awakens. Last week he told the BBC's Neil Smith why he is holding out.
---
I can't bring myself to watch it. I've not seen it, in a very deliberate way. It was on in the dressing room the other night and I had to leave - I walked out the room.
People have described it to me, the Millennium Falcon doing that [makes 'schhh' noise] and I can see it in my head. But I'm just avoiding it.
Why? Because Episodes I, II and III [The Phantom Menace, Attack of the Clones and Revenge of the Sith] were so disappointing.
I, II and III to me was like watching someone play [computer game] World of Warcraft. It was too CG; there was not enough real world.
You could smell the green screen in every scene, in every amazing vista of Coruscant. It was like watching Finding Nemo for me; there was no joy in it.
What was brilliant about the first Star Wars film was the grubbiness of it: rusty robots, dirty transporters, second-hand rockets, things that broke. That was a real world.
Carrie Fisher [Princess Leia in the original Star Wars trilogy] came to a QI [recording] one night and I could barely move - I was just rigid.
But the films they made afterwards were so shiny, so full of big, clever, computer-generated monsters, that with each one it was really a law of diminishing returns.
I genuinely can't watch it. I've been burned too badly.
Star Wars to me is like an old girlfriend who I chucked ages ago, who if I met now it would be really awkward. I'd be like, 'I'm watching different films now; I'm seeing someone else.'
It's a bit too much. I'd invested too much in IV, V and VI [A New Hope, The Empire Strikes Back and Return of the Jedi].
What would I like to see? A return to the values that were established in the first three films... I sound like I'm at a Conservative party conference now.
I want [a return to] the simplicity of it. Practical things in your hand have a physicality and a weight, even if they're lasers.
I met an effects bloke in Essex, he drinks in my local coffee shop. He said [the makers of the new film] bought every gas-bottled air gun in England when they arrived because they wanted the Stormtroopers' guns to have a kick when they fired them. You don't have to fake it; it looks real.
It's like the show I'm doing now, which is beautifully grubby. [Urinetown is a musical satire set in a future where a water shortage has led to a ban on all private toilets.] It reminded me a lot of [Terry Gilliam film] Brazil when I first saw it, a modern world entrenched in a 30s aesthetic.
It's an odd mix between the quirky and the dark, like late Monty Python.
But I think film-making is going back that way anyway. We've had all the fun and games of these computer effects films and people are a bit sick of it - we're blase about that now.
Phill Jupitus can be seen in Urinetown at London's Apollo Theatre until 10 January. Star Wars: The Force Awakens is released in December 2015.