Fargo withheld from Writers Guild of America awards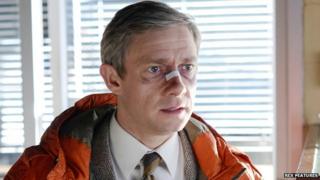 Hit US TV series Fargo has been kept out of the Writers Guild of America awards in a wrangle over categories.
The show, which stars British actor Martin Freeman, was fielded as a miniseries, but the WGA said it was only eligible for the drama shortlist.
TV channel FX contended the show - based on the Coen Brothers' 1996 film - was not a drama series and withdrew from the race.
The show has already been accepted for the Golden Globes as a miniseries.
It also won an award in the same category at the Emmy Awards earlier this year.
The programme picked up a total of nine prizes, including a best lead actor in a miniseries for Sherlock and Hobbit star Freeman.
The actor played a henpecked insurance salesman who was preyed upon by Lorne Malvo, played by Billy Bob Thornton.
The darkly comic crime story, adapted by screenwriter Noah Hawley, featured different characters and plotlines to the film but retained its flavour.
Hawley was also awarded with an Emmy for outstanding screenwriting in a miniseries.
The WGA insisted that Hawley's "created for television by" credit made it ineligible as a miniseries, according the their regulations.
FX said the serial was "a single, close-ended story" and therefore not a drama series.
"Since Fargo is not in fact a drama series, and it is in fact a miniseries, FX made the decision not to submit Noah Hawley and his brilliant scripts for WGA Awards consideration," the broadcaster added.