Men, Women and Children: An internet cautionary tale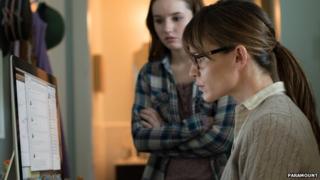 For some parents, what their children are looking at on the internet is a constant source of worry. Jason Reitman's latest film is a cautionary tale about the perils of the web and social media.
"'Dad, I saw something on the internet....' - that's the worst opening of any conversation you can have with your child," says director Jason Reitman.
"I'm terrified of my [eight-year-old] daughter having access to the internet - I fear it every time she asks for a phone."
The increasingly online world in which we live is the central theme of Reitman's latest drama, Men, Women and Children.
Based on the book of the same name by US author Chad Kultgen, the film takes a look at how the internet affects the lives and sexual relationships of a group of high school teenagers and their parents.
Guaranteed to rock any parent watching, it shows the perils of sexting, online gaming, social media and how the web can be a gateway for access to pornography and pro-anorexia sites.
And while their children are immersed in their phones, the adult characters in the film also use the internet as a tool for extra-marital affairs.
Sound shocking?
"The book is so much darker," says Jennifer Garner, who plays overprotective mother Patricia Beltmeyer in the film.
"The book takes the movie and makes it seem like Mary Poppins."
Reitman says Kultgen's book touched upon issues he himself was interested in.
"His approach to the internet was very frank and at the same time passed no judgement," the Juno and Up in the Air director says.
"He was responding to questions we don't have answers to and I saw an opportunity to approach things that had been on my mind.
"As a 10-year-old, you can go online with whatever your curiosity is and not only answer that question, but every question you never wanted to ask in the first place.
"Anyone can go online and find a community to OK any point of view. No matter how screwed up you are, there's a group of people online who say: 'hey man, we're with you, don't feel bad about that' - and that's a sad state of affairs."
So worried about the dangers of the internet, Garner's character resorts to tracking her 15-year-old daughter's every move online and offline through GPS trackers, pre-approving every post and text message and monitoring her web activity.
Although her actions are extreme, the actress can sympathise.
"Being a parent is really hard and Patricia makes a lot of sense to me," says the actress, who has three children.
"Every day you have a chance to screw up at being a parent and this is her opportunity. She thinks she's doing the best she can, but everything that has anything to do with a device has become evil to her and she's villainised it so much. In her mind it's a black and white issue."
Among the cast of young actors in the film are The Fault in Our Stars' Ansel Elgort and Justified's Kaitlyn Dever. With social media not even a second thought to them, it offered the opportunity to teach the older stars a thing or two.
"What was eye-opening was them saying you want to be online where your parents are not - they don't want their parents to post on their Facebook page," says Rosemarie DeWitt, whose character finds herself going online to find a new partner after becoming dissatisfied with her sex life.
"When we were kids we used to get on our bikes and go somewhere, but they go to the internet and it's as normal to them as hanging out in the woods."
Although celebrities appear to be ubiquitous on Twitter or Facebook, unusually, Garner does not have an online presence.
"I don't understand what I would have to offer that I would be willing to give," she says.
"I would certainly never pimp out my children and that's what people are interested in - and I'm not going to talk about my marriage on social media, so other than that it's just a time-suck.
"I just have no interest in being pulled or feeling guilty on not answering one more thing than I already do."
The actress also admits in terms of her children, her fears of the internet "are so vast".
"A woman at a parenting class once said to me, 'Prepare your child for the road not the road for your child,'" she says.
"I thought it meant if they had a rough time at a basketball game and they didn't get put in [the team], teach them that lesson instead of yelling at the coach.
"But now I'm starting to see it's about trust and open, frank conversations. Hopefully this movie will spark that for someone."
Men, Women and Children is on general release on 5 December.