Phillip Schofield completes 24-hour TV marathon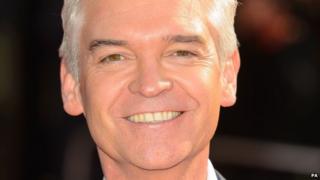 This Morning host Phillip Schofield has completed his 24-hour live TV charity marathon.
The presenter began the challenge at 11:00 GMT on Monday to raise money for ITV's Text Santa appeal.
With the entire broadcast shown on ITV3, viewers saw Schofield abseil down a building and meet Prime Minister David Cameron.
Schofield, 52, said the feat had been the "most extraordinary experience ever" and "absolutely amazing".
By the end of the 24 hours, more than 200 guests had featured on the broadcast.
The presenter - who said he had only yawned twice during the marathon - said it was "a lovely achievement".
He ended the feat on This Morning, leaving the studio with his wife saying: "And goodbye."
Monday saw Schofield begin the challenge on This Morning and go on to appear on Loose Women, the ITV news and a weather bulletin.
Later on he joined the I'm a Celebrity... Get Me Out of Here team for a chat with presenters Ant and Dec and took part in the "fish eye" challenge - putting as many fish eyes in his mouth as possible in 30 seconds.
Overnight, he walked barefoot on glass and participated in some aerobics with former Big Brother winner Josie Gibson.
Tuesday saw Schofield appear on Good Morning Britain and interview Prime Minister David Cameron in the first live TV broadcast from the cabinet room.
Occupying a chair Winston Churchill once sat in, Mr Cameron commented the UK was "incredibly generous when it comes to giving to charity".
He added the cabinet were in the process of being trained as "dementia friends" as part of the government's drive to encourage volunteering.
"So many people [have] Alzheimer's and other conditions. As well as the research we need to fund, as well as the improvements in the health service we need, we also need our communities to be more dementia-friendly so that everybody knows how to handle, how to help people with these conditions," he said.
Schofield has also revealed he plans to climb to the top of the Shard skyscraper in London for the appeal.
"That will put me 16 ft (4.9m) into civil airspace," he said. "Barring an aeroplane or someone on a mountain, I'll be the highest person in Europe."
The former Going Live! presenter's round-the-clock challenge comes ahead of ITV's Text Santa telethon on 19 December.