Stephen Sondheim hails 'fresh' Assassins revival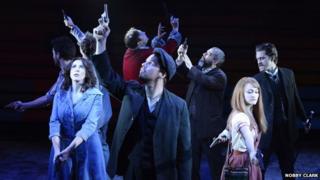 Composer Stephen Sondheim has helped to launch a new London staging of his 1990 musical Assassins, calling it "entirely different" from previous productions.
Catherine Tate appears in the Menier Chocolate Factory's revival, which explores the lives of people who have tried to kill the US president.
Sondheim, 84, said his musical had been "reconceived" for the Menier's space, which had helped to "keep it fresh".
One critic has called the result "fast, furious and fantastically off-kilter".
"Assassins has to be the most swaggeringly badass show in town," wrote Metro's Patricia Nicol in her five-star review.
"No one is firing with blanks in this spellbindingly on-song ensemble," she went on to say of a cast that includes The History Boys' Jamie Parker and Mike McShane of Whose Line Is It Anyway? fame.
Jamie Lloyd's production also drew a rave review from critic Mark Shenton, who saluted its "disquieting, disturbing brilliance" on LondonTheatre.co.uk.
"Form and content are seamlessly integrated in an astonishing, audacious and courageous show," the reviewer continued.
The production, wrote Holly Williams in The Independent, "pitches its audience into a zanily macabre funfair, the traverse stage littered with clapped-out bumper cars and a giant clown's head".
Lloyd's "assured" revival, she added, "glosses the darkness to a lustrous, lacquered black that's gleefully enjoyable".
Yet the musical, first staged in London in 1992, drew more qualified praise from Quentin Letts in the Daily Mail.
"The show is staged with elan and the music is tightly played," Letts said of Jamie Lloyd's interval-free production.
"Yet a whole musical drama about assassins? This is the stuff of university faculty revue evenings, at best."
'Relevant and profound'
Tate plays Sara Jane Moore, a mother of four who was one of two women who attempted to shoot US president Gerald Ford in 1975.
Her character joins Abraham Lincoln's killer John Wilkes Booth, JFK shooter Lee Harvey Oswald and other would-be and actual assassins in Sondheim's blackly comic piece.
"One lady came out on Saturday and said it was hilarious, but I don't think I would describe it like that," Sondheim told the BBC after Tuesday's opening night.
The Broadway veteran said he had "no idea" how the show would be received in London, but wondered if it might reflect "a general feeling of anger and disenfranchisement" he had detected in contemporary British society.
"Steve's work is always incredibly relevant, profound and remarkably entertaining," said Lloyd, whose productions of The Commitments and Urinetown are also running in London currently.
"The work speaks for itself and speaks to many different audiences at many different times."
Surprise visit
Broadcaster Jonathan Ross, novelist Anthony Horovitz and actor Neil Pearson were among the first night audience at Menier, a former factory that re-opened as a theatre in 2004.
The theatre has a history of reviving Sondheim's works, having previously presented Sunday in the Park with George, A Little Night Music and Merrily We Roll Along to critical acclaim.
Sondheim's appearance on Tuesday followed a surprise visit to another south London venue that has been staging one of his works.
The multiple Tony-winner popped in to Harrington's pie and mash shop in Tooting to see its production of Sweeney Todd, posing with its cast after Saturday's final show.
Sweeney Todd will be presented again next year at the London Coliseum, with Bryn Terfel as Todd, "the Demon Barber of Fleet Street", and Emma Thompson as Mrs Lovett, his pie-making accomplice.
Another Sondheim show, the fairy-tale inspired Into the Woods, has been turned into a film that will be released in the UK on 9 January.