BBC Trust says no to Clarkson complaint appeal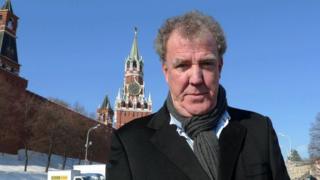 The BBC Trust will not consider an appeal for further action to be taken over Jeremy Clarkson's apparent use of the N-word while filming Top Gear.
A group of complainants asked the Trust's complaints and appeals board to review its original decision not to proceed to the appeal stage.
But the BBC Trust declined, pointing out the material in question had not been broadcast.
The Trust's complaints and appeals board said "apologies had been made".
In publishing its decision, the committee said there was "evidence that efforts had been made to consider the issue at the highest level in the BBC".
"The panel agreed that the incident did not engage [a potential breach of] editorial standards as the material had not been broadcast," it added.
When the incident came to light in May this year, Top Gear presenter Clarkson said the BBC had told him he would be sacked if he made "one more offensive remark, anywhere, at any time".
Writing in The Sun, Clarkson insisted he did not use a racist word while reciting the nursery rhyme Eeny, Meeny, Miny, Moe in an out-take from the show published by The Daily Mirror.
Although he mumbled the word, Clarkson began by saying the letter "n".
The BBC said at the time it left Clarkson "in no doubt about how seriously we view this".
Clarkson later released a video statement "begging forgiveness" for the error.
The group of complainants said Clarkson's use of an offensive term betrayed a racist attitude and was the latest in a series of racist and offensive remarks made by him, adding BBC management did not seem to take his offences seriously.
They added there "had not been meaningful apologies by the BBC and Mr Clarkson".
But a senior complaints adviser at the BBC noted in a previous letter to the complainants, the BBC controller of entertainment production wrote: "The director general of the BBC has taken this issue very seriously and has discussed the matter with Jeremy Clarkson. Mr Clarkson made it clear that he abhors racism and, following their meeting, he apologised profusely."
The adviser pointed out it was not for the BBC Trust to consider the details of any disciplinary conversations there might have been with Clarkson and were matters were for the BBC executive board.
The panel concluded there was no reasonable prospect of success for an appeal.