Jeremy Paxman to publish BBC memoirs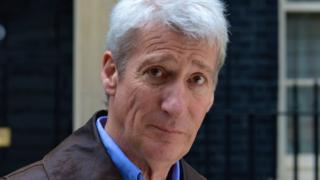 Jeremy Paxman has signed a three-book deal which will detail his 42-year career at the BBC.
According to The Sunday Times, the first book will look at how Britain has changed over the last 50 years, while the second will lift the lid on his time at the corporation.
Paxman began his career as a BBC trainee in 1972 and went on to present Newsnight for 25 years.
The Sunday Times said he will earn almost £1m from the deal.
During his time at Newsnight, Paxman earned a reputation as one of the most feared interviewers in the game.
The subject of the journalist's third book has not yet been revealed.
'Move on'
Paxman's status is such that the phrase to be "paxoed" has entered the media lexicon, meaning a journalistic "going over" to be avoided by hapless politicians.
Famous exchanges include his interview with MP Michael Howard in the middle of a Tory leadership contest in 1997.
Mr Howard was asked about his relationship with the former head of the Prison Service, Derek Lewis, whom he had sacked in 1995 after a series of escapes by IRA prisoners.
The former Newsnight host famously put the same question 12 times to the former home secretary without appearing to get a satisfactory answer.
And he once asked former Prime Minister Tony Blair if he and former US President George Bush "pray together".
Paxman left Newsnight earlier this year, saying it was "time to move on" and he "should rather like to go to bed at much the same time as most people".
He continues to present University Challenge on BBC Two, which he has fronted since 1994.
Last week, Paxman ruled out the possibility of running for London mayor after he said he was approached to become a Conservative candidate.
In September, Channel 4 announced Paxman would host its coverage of the 2015 general election.