Mickey Rourke wins exhibition boxing match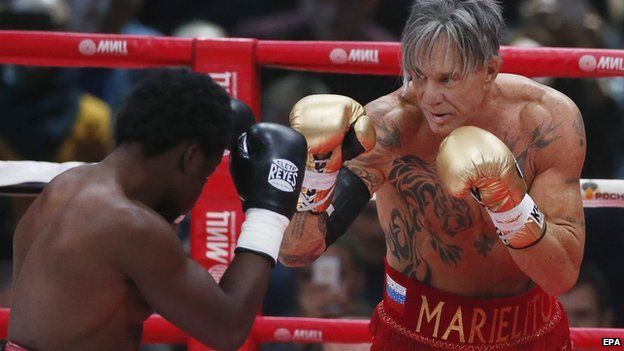 Hollywood actor Mickey Rourke has won an exhibition boxing match in Moscow after returning to the ring for the first time in 20 years.
The Wrestler star, 62, defeated Elliot Seymour - a former California Golden Gloves champion 33 years his junior.
Rourke sent Seymour to the canvas twice in the second round before the referee stopped the fight.
The Oscar nominated actor was an amateur boxer before finding fame in Hollywood movies such as 9 1/2 Weeks.
The organisers of the match said the boxers were receiving "large amounts of money" in fees but declined to give details.
"I'm very happy to be back to the boxing ring. Thank God for letting me do this", Rourke said ahead of his fight with 29-year-old Seymour.
He refused to go into detail about his motivations for returning to the ring, but told Russian TV boxing had "sort of saved me from myself".
The actor is reported to have lost more than 33lbs (15kg) for the fight, weighing in at 179.2lbs (81.3kg), the same as his rival.
Seymour is ranked 256th in the United States and before the fight with Rourke had one knockout and nine losses in 10 bouts.
Rourke returned to boxing as a professional in the 1990s and was undefeated in eight fights, with six wins and two draws.
However he suffered a number of facial injuries, which required surgery and changed his appearance.
In 2008 Rourke won a Bafta and Golden Globe for his role in the film The Wrestler, which told the tale of a former wrestling professional who decided to return to the sport.
He was also nominated for a best actor Oscar, but lost out to Sean Penn in Milk.