Sia 'saddened' by criticism over Aria awards 'no-show'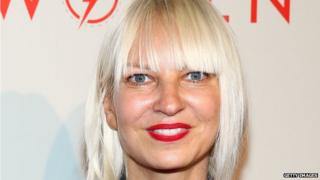 Sia has said she is "saddened" at being criticised for not attending the Aria Awards in Sydney and offered fans a chance to win one of her awards.
The singer-songwriter won four awards including album of the year for 1000 Forms of Fear, but didn't attend the ceremony on Wednesday.
She tweeted that she had made "four thank you/acceptance videos for the ARIAs" but "they chose to show one".
She then offered fans a chance to win one of her awards.
The publicity-shy singer, who is from Adelaide, also won best pop release, best video and best female artist, which Katy Perry picked up on her behalf.
Fellow Australian Iggy Azalea also did not attend the Aria awards ceremony, leading local media to question whether some artists thought they were too cool for the awards.
The Australian Recording Industry Association awards are the biggest event in the country's music calendar.
The awards organisers insisted that they will be posting all Sia's acceptance speech videos online.
Media-wary Sia often performs facing the back of the stage.
She recently performed on the Graham Norton show facing away from the audience. She told Norton that while she was ambitious she did not want to be famous, as she had famous friends and did not like the way they had to live their lives.