Educating Rita to return to Liverpool for 35th anniversary production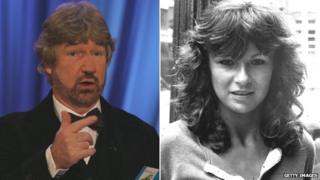 Willy Russell's Educating Rita is to have its first professional production in Liverpool in 13 years to mark the 35th anniversary of its 1980 premiere.
The play, about a university lecturer who tutors a working class hairdresser, will run at the Liverpool Playhouse from 6 February to 7 March.
Russell said he was "really delighted" to return to a venue with which he had "such a... fulfilling association".
Leanne Best and Con O'Neill will play the roles of Rita and Frank.
The role of Rita was first played on stage in London by Julie Walters, who went on to reprise her performance in the 1983 film opposite Sir Michael Caine.
Russell called Best and O'Neill "superb actors" and said it was "a real pleasure to have them perform the play here in Liverpool where both their (and my) careers began".
The production will be directed by the Everyman and Playhouse's artistic director Gemma Bodinetz, who said it was "both an honour and a joy... to be directing my first Willy Russell play in his home city".
Born in Whiston near Liverpool, Russell made his name at the Everyman with his 1974 Beatles-inspired play John, Paul, George, Ringo… and Bert.
He went on to enjoy further success with Educating Rita, Shirley Valentine and long-running musical Blood Brothers.
Other highlights of the Playhouse's 2015 seasons include a stage adaptation of the Coen Brothers' 1994 film The Hudsucker Proxy, a co-production with the Nuffield Theatre in Southampton.
The Everyman, in conjunction with Northampton's Royal and Derngate theatre, will also present The Hook, a previously unseen Arthur Miller drama about corruption in New York's docks in the 1950s.