Penelope Cruz to star in Zoolander sequel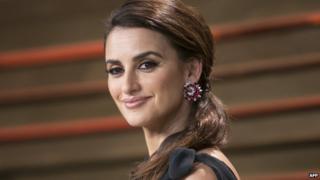 Oscar winner Penelope Cruz is set to star in the sequel to Ben Stiller's fashion comedy Zoolander.
The Spanish actress's signing is seen as a boost to the follow-up, which has been in the pipeline for several years.
Stiller is expected to reprise his central role and direct the new movie, which shifts the action 10 years on from the 2001 original.
The news comes after a Dumb and Dumber sequel scored a box office hit 20 years after its first outing.
Owen Wilson and Will Ferrell also had major roles in Zoolander, with Wilson playing Stiller's rival for supremacy on the catwalk.
Ferrell took the role of sinister designer Jacobim Mugatu in the tongue-in-cheek glance into the world of fashion.
However, according to Deadline, the two actors have yet to secure deals for the sequel and their return has only been rumoured.
The script is being written by Justin Theroux, who is also writing the screenplay to HBO drama The Leftovers, which may have slowed progress on Zoolander's return.
The original movie featured a whole host of cameo appearances from fashion luminaries including Claudia Schiffer, Tom Ford and Karl Lagerfeld.
David Bowie played the judge in a "walk-off" between rivals Derek Zoolander and Wilson's Hansel McDonald.
The main female role in the film, journalist Matilda Jeffries, was played by Christine Taylor - Stiller's wife - in the 2001 release.
It has yet to be disclosed if Cruz will be playing Taylor's character in the sequel.