Luther making his return to BBC One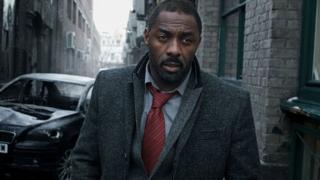 Idris Elba's award-winning detective Luther is returning for two special episodes, the BBC has announced.
"Luther is coming back where he belongs. Back to the BBC. Back to London. And back to work," said creator Neil Cross.
The news was announced as part of a major package of new drama commissions for BBC One and Two.
Bond film writers Robert Wade and Neal Purvis will adapt a book about life in Nazi-occupied Britain.
The five-part series SS-GB, based on the novel by Len Deighton, hangs on the premise that Germany won the Battle of Britain and conquered the UK. Archer is a Scotland Yard detective who has to consider whether to collaborate or join the resistance.
Wade and Purvis wrote the screenplay for Skyfall and Quantum of Solace, and adapted Casino Royale.
Other new dramas in the pipeline include Cuffs, an eight-part weekday evening police series written by Julie Geary, creator of Prisoners' Wives.
"We'll be right on the shoulders of our cops as we follow them into every corner of lives in which work pressures don't end at the station door," she said.
Acclaimed screenwriter Tony Marchant will adapt Joseph Conrad's The Secret Agent for the screen, while Peter Moffat - who made legal dramas Silk and Criminal Justice - will return with a drama about a black female character who is about to become the director of public prosecutions.
On BBC Two, Sir Anthony Hopkins will return to BBC drama for the first time in more than 40 years. He will star opposite Sir Ian McKellen in an adaptation of the stage play The Dresser, directed by Sir Richard Eyre.
Award-winning series Top of the Lake is also set to return to BBC Two, for a second series.
Created by film-maker Jane Campion, best known for The Piano, the action moves from small town New Zealand to Sydney.
Next Christmas sees an adaptation of Julia Donaldson and illustrator Axel Scheffler's Stick Man, from the team behind the TV versions of The Gruffalo and Room on the Broom.
The BBC also confirmed that an animated adaptation of Roald Dahl's Revolting Rhymes will be made, containing the illustrations of artist Quentin Blake.
The two half-hour shows will be screened in Christmas 2016, marking Dahl's centenary year.
Neil Cross, writer and creator of Luther, said viewers would be eager to find out what happened to the character next, who was last seen in July 2013.
"Ever since we said goodbye to John Luther on Southwark Bridge, there's hardly been a minute when I didn't wonder what happened next. So I decided to find out.
The popular series will begin filming around London in March and will be screened later in 2015.