Billy Joel's career in songwriting honoured in Washington DC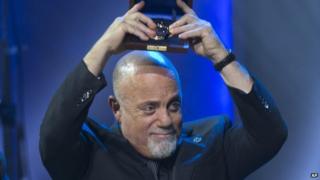 Musician Billy Joel has received the Gershwin Prize for Popular Song at a gala in Washington DC, honouring his life's work in songwriting.
The singer was joined by a number of other entertainers at the celebration, including Tony Bennett and LeAnn Rimes.
Actor Kevin Spacey played harmonica for Joel on a rendition of Piano Man, one of his many hits.
The prize, created by the Library of Congress in 2007, is named after songwriters George and Ira Gershwin.
Previous recipients of the honour include Sir Paul McCartney, James Taylor and Barbra Streisand.
Streisand was one of the stars who filmed tributes to Joel for the concert.
Republican and Democrat congressional leaders were at the event, both singing along to his hits.
Supreme Court Justice Sonya Sotomayor, who, like Joel, hails from New York, said the singer had provided a lasting musical legacy for the entire US.
"For more than five decades, Billy Joel has inspired new generations of performers, musicians and singer-songwriters," she told the audience.
At a lunch held before the award ceremony on Tuesday, Joel paid tribute to his mother Rosalind, who died earlier this year.
"I keep seeing this through her eyes now," he said. "She would have just gotten such a kick out of this."
The 65-year-old, who is currently on a lengthy tour of North America, has global hits Uptown Girl and New York State of Mind in his songwriting canon.
He has won numerous Grammy awards over the course of his 50-year career and was inducted into the US Rock and Roll Hall of Fame in 1999.