Rome's opera house saves musicians' jobs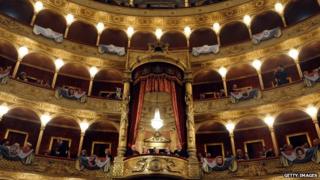 Rome's troubled opera house has announced that nearly 200 jobs have been saved after it reached an agreement with trade unions.
The deal aims to save 3m euros (£2.4m) a year by cutting overtime pay and bonuses while boosting productivity.
The management announced in October that 182 choristers and musicians would be fired and hired back as freelancers during the opera season.
This decision forced the unions back to the negotiating table.
The new settlement also includes a promise by unions not to strike over issues linked to the deal.
'Necessary serenity'
"This is a victory for the Teatro dell'Opera di Roma," the opera's superintendent, Carlo Fuortes, said in a statement, which also praised the seven unions representing the musicians and staff for "shouldering responsibility".
Teatro dell'Opera di Roma has been in turmoil for years, struggling with both debt and bad management.
Conductor Riccardo Muti quit earlier this year, saying that, after six years in the job, there was no longer the "necessary serenity" to lead successful productions.
Rome's mayor Ignazio Marino welcomed the new deal and said he hoped that "in time", 73-year-old Muti could be tempted to return.
The Teatro dell'Opera di Roma dates back to 1880 and is subsidised by Italy's central government and the city of Rome.
Its current season includes Dvorak's Rusalka, Tchaikovsky's The Nutcracker ballet, Puccini's Tosca and Verdi's Aida.