Taylor Swift denies claims of Google music deal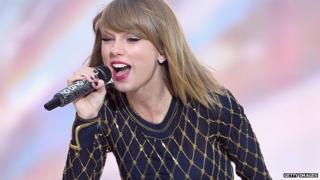 Taylor Swift has denied talking to Google about making her music available on its new YouTube Music Key service.
A spokesperson for Swift said: "Taylor Swift has had absolutely no discussion or agreement of any kind with Google's new music streaming service".
The denial was issued after Billy Bragg criticised the singer for removing her entire back catalogue from Spotify.
Swift said she made the move because she did not agree with "the perception that music... should be free".
But, writing on Facebook, Bragg accused the star of not being honest with her fans.
"[She should] say 'sorry, but [Google] gave me a huge amount of money... so I've sold my soul," he said.
"These worthy sentiments have been somewhat undermined by Swift making her new album and back catalogue available on Google's new Music Key streaming service…..which also offers listeners a free service alongside a premium subscription tier."
The musician suggested Swift's withdrawal from Spotify was intended to maximise sales of her latest album, 1989, which has topped the charts around the world.
Bragg has voiced strong opposition to YouTube's new Music Key service.
He accused the company of trying to "strong-arm" indie labels into agreeing to "low rates" by threatening to block their material if they did not take part.
Bragg's own music featured on the service, as it was included as part of an agreement signed by a company representing indie label, but he previously told the BBC he had not been informed of the details.