UK Box Office: Turing film fails to crack Interstellar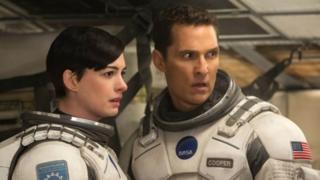 Christopher Nolan's space epic Interstellar has secured its position at the top of the UK box office for a second week.
It took £3.7m, beating Alan Turing biopic The Imitation Game into second place in its opening weekend.
British comedy Nativity 3: Dude, Where's My Donkey? took third place.
Starring Matthew McConaughey, Interstellar follows a team of humans as they flee a dying earth in search of a new beginning for the human race.
It has now taken more than $300m (£192m) at the global box office.
The complete box office chart for 14-16 November:
Interstellar - £3.7m
The Imitation Game - £2.7m
Nativity 3: Dude, Where's My Donkey? - £1.8m
Mr Turner - £741,000
The Drop - £638,000
Gone Girl - £454,000
The Book of Life - £443,000
Teenage Mutant Ninja Turtles - £437,000
Fury - £360,000
Ouija - £309,000
Source: Rentrak