James Brown biopic Get On Up shows 'warts and all'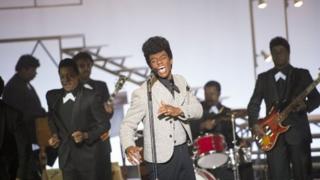 He's known as the Godfather of Soul but James Brown is credited with inspiring rap, hip-hop, funk and RnB as well. He's now the subject of a film biopic, Get On Up, made by the man some would describe as a godfather of rock - Mick Jagger.
The Rolling Stones frontman was first asked by Brown's family to produce a documentary about the star after his death, aged 73, on Christmas Day 2006.
"I'd also produced two Rolling Stones documentaries, Stones in Exile and Crossfire Hurricane, and I agreed to do it," says Jagger.
"But then I thought James Brown deserved a feature film, not just a documentary. I met him several times over the years and he was extraordinary. Then I found out there had been a film in the works about him for more than a decade."
Get On Up was first proposed as a movie in 2000, when Brown was still alive.
Initially Eddie Murphy was asked to play Brown and Spike Lee was to direct it, but it was shelved for several years after the singer's death, until Jagger resurrected the project in 2012.
The Help's Tate Taylor, the eventual director, describes Jagger's role as "doing all the heavy lifting, getting this film made. But then he was on set every day, he was passionately committed to it.
"Even Chad Boseman, who plays James and is no mean dancer, was nervous about singing and dancing in front of Mick Jagger. After all, his moves are so good, we're still singing about it today."
Taylor describes the biopic as "traditional, covering as many episodes of his life as possible. The trouble is with James, we can't pick just one part of his life, and we can't pick just a few songs. Think of what he's done - Papa's Got A Brand New Bag, Living In America, Sex Machine, Get On Up.
"We may call him the Godfather of Soul, or Mr Dynamite, but actually I would call him Mr Genesis, because most of the music we love, he is the genesis of that beat.
"And we have to start that biopic when James Brown is six years old, because he was born in 1933, to extreme poverty in South Carolina, and from the age of six he was frequently left for weeks on end by his parents, to fend for himself in a cabin in the woods.
"That's actually the key to understanding James Brown - his extreme self-reliance, his absolute determination to survive, and his inability to trust anyone."
During his career, Brown had 16 Billboard number one singles, and is credited with stopping a riot in Boston on the night after the assassination of Martin Luther King on 4 April, 1968.
Brown insisted a planned performance of his go ahead in the city, and it was broadcast on live television to try to calm unrest across America. When a few protesters tried to storm the stage and police responded forcefully, Brown urged both sides to be "gentlemen".
"The sheer force of his personality quelled them," recalls Taylor. "Perhaps it was James Brown's finest hour. Unfortunately, we have to show the other aspects of his personality - the run-ins with the police, his increasingly erratic behaviour in the 1980s, and his treatment of women in his life."
Brown served time in juvenile prison as a teenager, and he was also sent to jail in 1988 for three years on drugs and possession of weapons charges.
He was also known for domestic abuse; particularly of his second wife, Dee Dee Brown, who left him in 1979. There has been criticism that these scenes in Get On Up happen only off camera, but that, according to Jill Scott, who plays Dee Dee Brown, was at the family's request.
"That was entirely the wish of Dee Dee," she says. "She wanted the audience to feel the repercussions of what she went through, but she didn't want them to see it."
"I'm glad it was touched upon and not glossed over," adds Octavia Spencer, who plays Brown's aunt. "We should see him in both his light and dark moments.
"We don't focus on it because we are talking about a man's entire life here, not a small amount of time. His relationships were extremely complex but I think the one thing that we can't dispute about James Brown is the genius of his music."
Chadwick Boseman, best known for playing the role of baseball player Jackie Robinson in 42, says he never thought he would be one day be playing Brown. "When my sister heard I was doing it, she said to me, 'you're playing James Brown? But you can't dance!'
"Every night I went home, looked at myself in the mirror and said, 'what made me think that I could play him?' We had five hours a day of rehearsals and then I would go home and dance some more.
"His understanding of the body and of music and rhythm was just amazing. The best dancers in the world are still studying him, 40 years later."
Already released in North America, Get on Up has met with mainly positive reviews, including from The Guardian, who calls it "one of the year's outstanding performances... Get On Up is that rare biopic that leavens its respect with a little light mockery. It befits a subject who meets the final turn of Fate's Wheel dressed in a lime-green jumpsuit and hair rollers."
It has made its $30m (£19m) budget back, which Taylor calls, "no easy job. It wasn't a risky movie in terms of content, but in terms of the changing global marketplace of cinema and what gets made, we had to become like James Brown himself in making this movie and not take no for an answer.
"But this man deserves to be brought to a new generation, whose own modern day icons say their own genres would not exist if James Brown had not walked this earth.
"They need to know that in some ways, the King of Pop, Michael Jackson, merely collected the torch from James Brown. James Brown was the flame."
Get On Up is released in UK cinemas on 21 November.