Christopher Nolan defends sound in Interstellar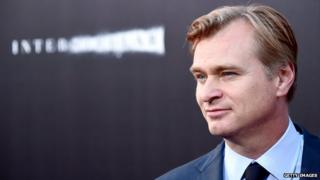 Director Christopher Nolan has defended the sound in his film Interstellar.
Some viewers have complained that sections of dialogue are difficult to hear, but Nolan told the Hollywood Reporter that was intentional.
He said the idea was "to experience the journey the character is going on."
"I've always loved films that approach sound in an impressionistic way and that is an unusual approach for a mainstream blockbuster, but I feel it's the right approach."
In the epic sci-fi film Anne Hathaway and Matthew McConaughey's characters go in search of new habitats for humankind after Earth is devastated by an agricultural crisis.
The Batman and Inception director said he used dialogue as a sound effect at points "so sometimes it's mixed slightly underneath the other sound effects... to emphasise how loud the surrounding noise is."
"I don't agree with the idea that you can only achieve clarity through dialogue. Clarity of story, clarity of emotions - I try to achieve that in a very layered way using all the different things at my disposal - picture and sound."
Explaining about one scene set in the spaceship Nolan said "the experience of being in the cockpit is you hear the creaking [of the spacecraft].
"It's a very scary sound. We wanted to be true to the experience of space travel. We wanted to emphasise those intimate elements."
Nolan spent six months mixing the sound with composer Hans Zimmer, re-recording mixers Gary Rizzo and Gregg Landaker and sound designer Richard King.
Some had questioned whether they could not hear some of the dialogue because of problems with cinema equipment, but Nolan said he has visited screenings in a number of theatres and praised the way the film was being shown.