Bono needs surgery after bicycle fall in Central Park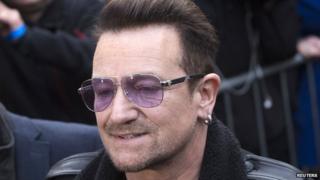 U2 frontman Bono has been been injured after falling off a bike in Central Park, New York.
The band revealed on its website that he will require surgery on his arm "to repair it".
U2 were due to start a week-long residency on the Tonight Show with Jimmy Fallon, which they have postponed.
"We're sure he'll make a full recovery soon, so we'll be back!" said the statement from Edge, Adam and Larry.
"Much thanks to Jimmy Fallon and everyone at the show for their understanding."
Bono flew back to the US after taking part in the Band Aid 30 charity single recording in London on Saturday.
The recording, which comes 30 years after the original, is raising money for the fight against Ebola.
Bono, who also appeared on the original, told BBC News: "We've been trying to make this event a thing of the past. We want to make Band Aid history.
"If every country had the values of Great Britain and kept the promises they'd made at these big G8 meetings, we wouldn't have to be standing here.
"I just wish we didn't have to do this. There will come a time when we won't. And it will be great not to see the same old faces."
The week-long residency on The Tonight Show with Jimmy Fallon is part of the band's promotional tour for their album Songs of Innocence.
The band came in for criticism after the album was automatically added to the libraries of all iTunes users around the world
Bono apologised in a session on Facebook, calling the move a "drop of megalomania, a touch of generosity".