Mick Jagger 'upset' by court disclosure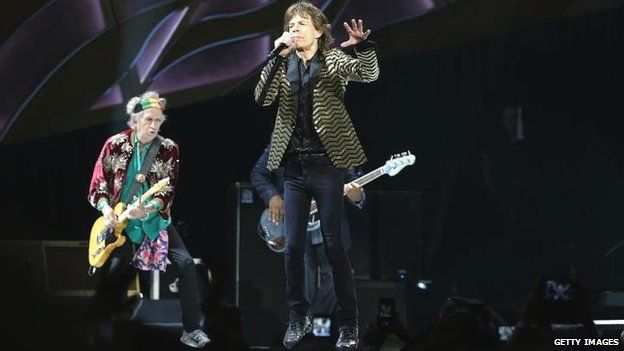 Mick Jagger says he is "deeply upset" that confidential medical information was revealed during a court battle over a contested insurance claim.
On Friday, the Rolling Stones settled a dispute with insurers over a $12.7m (£7.9m) claim for concerts postponed when Jagger's girlfriend died.
But the band expressed concern about private information being made public.
Documents revealed Jagger was suffering from "acute traumatic stress disorder" following L'Wren Scott's death.
The fashion designer took her own life in March, prompting the Stones to postpone a tour of Australia and New Zealand.
Court documents suggested frontman Jagger was advised by doctors not to perform for at least 30 days.
"We are deeply upset that confidential medical and other private information about members of the band and their immediate family and loved ones has entered the public domain as a result of a US court filing initiated by insurers four weeks ago," said a spokesman for Jagger.
"This was done without the knowledge of the band or reference to their legal representatives.
"This has only been discovered and reported in the press in the last week, by which time we are pleased to say the insurers and the Rolling Stones had, in fact, settled the insurance claim."
"No further comment will be made about this matter," the statement concluded.
The group had taken out a policy to be paid in the event shows were cancelled due to the death of family members or others, including Scott.
Underwriters had contested the claim saying Scott's death may not be covered by the policy, arguing that she may have been suffering from a pre-existing mental illness which could invalidate the policy.
The Rolling Stones began a new tour of Australia and New Zealand at the end of last month, but were forced to cancel their Melbourne concert last weekend after Jagger, 71, developed a throat infection.
The group performed at the Allphones Arena in Sydney on Wednesday. They will continue their tour with a concert in Hunter Valley over the weekend.
Related Internet Links
The BBC is not responsible for the content of external sites.